No true fan of sport is without some streak of cynicism. 
It's a human predilection, to expect the worst and downplay everything else. I mean, what the Hell is the point of finding the good in our favourite teams anyway?
We don't bond with pals by commiserating over good tries and near wins, do we?
Nah, only reason I invite them over to chomp nachos, crush Diet Mountain Dew, and watch a languishing Toronto Raptors team on a Tuesday night in March, is to wallow amongst kin (just ask Maple Leafs fans what the Hell they've been doing for half a century…Too soon?).
My partner fires up the diffuser to ward off the collective bad vibes and blares a wailing Kate Bush to drown out our vulgarities. 
That's fandom, folks.
Only when our team surpasses all expectations do we momentarily holster our gripes. Otherwise, no success is without some modicum of lament.
That's why, this season, despite being against my nature – as a fan and as a human – I gave as much positivity as momentary lapses of silver linings, balanced reviews, and encouraging spotlights allowed.
I've had to. It's been too painful to swallow the piling losses like unchewed shards of tortilla chips.
Season's over now, though. Our toiled souls once again hardened. No more Mr Nice Adon.
Not me.
This season sucked. Its multitude of accumulating failures distressed my heart like arterial plaque. In two years, maybe, when we've reconquered the Eastern Conference, we can look back and thank this arduous time as growth for our blossoming stars – or for a fluke lottery grab.
Until then, PHOOEY!
Call me Captain Hindsight if you must, but there were some significant decisions made by Raptors management this season that, excuse my language, they f'ed up.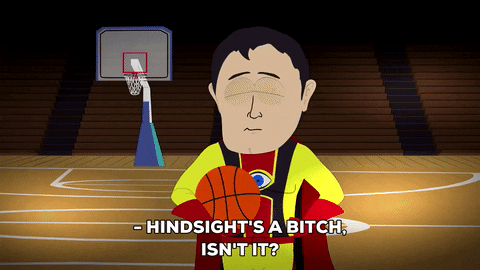 And I'm cheesed about it.
1. Paint Drain
Don't @me with the Giannis Antetokounmpo Free Agency defence. It's as obsolete as the Maginot Line. Sure, it was a good plan…in theory…ask the French how theories turn out.
The evidence was speculative at best. No one knew where Giannis was going. Or even if he was leaving Milwaukee at all. Were he to uproot, Toronto was only one of many prospective teams looking to snag him. 
Sure, Masai and Giannis' relationship is legit. But we all know that friendship means jackshit when it comes to gajillions of dollars and championship aspirations (though, I'd argue, GA in T-Dot is instant championship potench).
In waiting, Toronto management got greedy. They wanted to re-sign Serge Ibaka and Marc Gasol while keeping a Giannis-max-deal in play. How many times must we, as a species, be reminded that we cannot – I repeat CANNOT – have our cake and eat it too?
Toronto tried and got pie on their face. They were right to think that both liked playing for Toronto. They were wrong to assume they'd forgo chunks of change to return. The Raps low-balled with one-year contracts. FAT CHANCE.
Serge was upset by both the offer and the expectation to again share minutes with Marc. Marc was annoyed by the amount and attracted to the prospect of a Laker repeat. They each fled to La La Land for a negligibly larger pile of cashola. Their disdain left a visceral trail leading west. 
It was a huge misread downplayed by management's overconfidence. They'd yet to make a transactional error. Nearly every trade since Masai's tenure has been a landslide success for Toronto – including the ones that nabbed Ibaka, Gasol, and a Championship. 
They also thought they had nothing to lose. Chris Boucher was rising in the ranks as a similar Serge-prototype; Marc's contributions were replicable with lesser talents on the market like Alex Len (nope) and Aron Baynes (VERY NOPE).
Counterfeits did not suffice (more on that to come). So often, the offence stagnated and the defence faltered without a legitimate centre. All season (no Dis' to Freddy G or Khem), the Raptors lacked the one player to funnel the ball to inside for an easy look or to shift the defence, or to collude with in high post actions, or to intimidate oncoming attackers, or to outmuscle ravenous rebounders. 
Nurse's reliance on a collective defensive and rebounding effort took its toll. Guys like Pascal and OG (and, avidly, Stanimal) expended bundles of energy to compensate for the team's shortcomings that remained shortcomings. It resulted in the rebounding and fouling calamities we agonizingly digested. 
There were other ways to open up money for Giannis, I'm sure. They could have unloaded Marc, Serge, or both at the deadline or in the offseason if need be. It's simply poor asset management to let both go with nothing in return.
Who knows. COVID may have frigged it all up anyhow. But we all sense, deep in our bones, that had the Raptors hung on to at least one of Marc or Serge, the Raptors are probably in the Play-In, and, likely, making Doc and Philly a little too sweaty in the first round.
Instead, the Raptors got cute and, now, I have to begrudgingly watch Marc be vundabar in the Playoffs:
and suffer the consequences of not having a Gary Trent Jr./Serge Ibaka fashion collab.
2. Paying Two Cent-res on the Dollar
The effects of failing to retain Gasol or Serge were compounded by Toronto's "attempt" to replace them.
I've reproached the Baynes signing too many times to count already. The Len acquisition's not really even worth talking about. 
The problem, though, wasn't the additions themselves. Success rates on low-fidelity players are expectedly slim. It's the nature of taking risks on guys other teams are not willing to pay. Deandre' Bembry, for example, is, arguably, a success. You win some, you lose some.
The problem was the Raptors' refusal to ameliorate the screw-up once obvious. They went months with a gaping hole at centre. Baynes looked washed every minute he was on the floor (except, ironically, towards the end of the season where he was suddenly spry[er]). They laid off Len. Boucher could not sustain prolonged production at the five. OG and Pascal (and Stanimal) were effective, defensively, at centre, but they had to war every millisecond to earn it and were no long term solution. 
It took mere weeks to recognize the irresolvable quandary. Khem Birch was a revelation when he signed in April, but, by then, the season was a wind's breath away from tipping over the cliff. 
Why wait so long to fix a glaring issue?
Maybe there was some backchanneling between Birch's people and the Raptors, a wink and a nod that Khem was coming sooner or later. Choosing to wait until the buyout market was self-destruction. 
Enter conspiracy theorists prognosticating Masai's desire to get in the lottery. I don't buy it, but it's a valid explanation by the tin-hat section on why nothing was done.
Again, I think we can simply blame overconfidence. Nurse and company perhaps believed in their system more than their personnel. That they're rangy, scrambly, aggressive defensive scheme could make up for a traditional big.
At times, it did. By the end of the year, the Raptors finished with a solid paint defence. They gave up the second least amount of points in the paint and were middle of the pack for points given up within 10 feet and 6 feet. The primacy of their SKYNET defence flummoxed MVP-candidate, Joel Embiid, twice, holding him to two of his three worst shooting performances of the year. Embiid, himself, testified to the terrors. 
Rebounding was an eyesore all season. Time and again they'd finish games at a deficit. Many a hard-earned defensive possession was lost to hapless struggles against wider, thicker, taller frames. They finished in the 28th percentile for offensive rebounds allowed, 16th percentile for offensive rebounds collected, and were two-tenths of a rebound ahead of the worst rebounding team in the league.
They were also a paltry 27th in points in the paint and 21st in second-chance points. This conundrum is a greater knot to untangle; it wasn't just not having a dynamic big. There was a lot more going on under the hood regarding offensive stratagem and player responsibilities – stuff we won't get into.
Nonetheless, there's a major problem when a team is 12th at rim attempts, but 22nd in rim accuracy. Bigs obviously make a difference. Even if it's not back-to-the-basket dominance. It's easy for defences to quelch actions and remedy blowbys when Aron Baynes is the second option on a dump off or a pick-and-pop. Or when it's an undersized forward having to gather and operate deep in the paint.
We saw the contrast between BKE (Before Khem Era) and after. Pick and rolls and shovel passes became much deadlier with a guy who could finish through and above opposing bigs – including a weaponized shot-put floater that Khem had designed for him by Lucius back at Wayne Enterprises.
Gasol and Ibaka were indeed luxuries no January Free Agent could replace. All the same, the Raptors could have done something…anything…
Like…
…Dewayne Dedmon, who sat on ice all season until Miami thawed him in April. I've already written about him and DeMarcus Cousins as 10-Day Contract pleasures. He's played limited minutes in a limited role, and been a net positive in scoring and rebounding while doing so. He's exactly what the Raps needed: a capable paint mercenary. Dedmon's in the 96th and 91st percentiles for offensive field goal rebounding percentage and defensive field goal rebounding percentages respectively. Baynes: 58th and 65th. Dewayne shot 73% at the rim on 71 attempts; Baynes finished the season 45% at the rim on 303 shots. 
Or…
…DeMarcus Cousins, who escaped Houston on February 23rd. I know…it's DeMarcus Cousins…you can Guffaw if you like. Hear me out.
Cousins has been an okay addition for a thin Clippers centre rotation, at least in the regular season – he was in the 70th percentile for points per 100 shot attempts and 73rd for assist percentage for bigs (bottom 4% for turnovers I admit). He's the rebounding behemoth you want sucking down 50/50s and has played fine defence as far as the numbers go. He doesn't fit the Nurse defensive scheme, but neither did Baynes. Rondo and Cousins are a lovely pair; Flynn and he would have made an effective 2nd unit coupling. True, he's been a net negative in scoring on the court and leads the league (though likely tied with Dončić and LeBron) for number of tight-sphincter-whiny-faces made, which is never something you really want on your team. But you're telling me he couldn't replicate some much-needed Gasol-hub minutes? 
Yes, there was not much else out there. Damian Jones had a nice little run in Sacramento. He's no great rebounder, but he's a long vertical threat to finish in and around the rim, he scored 142 points per 100 shot attempts since becoming a King. Maybe we could have doubled down on more wing-centres (I'm foreshadowing)?
No, trading for a big at the deadline was not the answer. Well, it was, but it was too late by then. A desperate overpay is not how Masai rolls nor was it justifiable for where the team was at.
Instead, the Raps sat quiet, meekly dabbling with G-Leaguers Dionta Hall (Feb 26th) and Henry Ellenson (Mar 10th) for ten days. Neither made the cut. And then nothing, until April, when it mattered little anyway.
3. Not Selling Low-ry
I'm a little torn on this one. My man, Arsenalist, has already covered it. I'll leave it be.
But I'm gonna need a 30 for 30 ASAP telling me whyyyyy we don't have Matisse Thybulle or Tyrese Maxey or Talen Horton-Tucker or another 1st Round Pick on our team right NOW!!!!??  
If Lowry stays, all's forgiven. If not….urgggggg.
4. Rimpatience
I never thought I'd be saying this about Toronto. And, really, with Malachi Flynn and Jalen Harris' (and Paul Watson's) improvement over the course of the year, I should bite my tongue.
But I can't bear it.
I can't ignore the fact that we just let Oshae Brissett and Alize Johnson walk.
Watching them play (Alize in Brooklyn; Oshae in Indiana) and excel, left me all the more perplexed. They're two burly (Alize is more team fire hydrant [as Samson Folk would say]; Oshae more team telephone pole) versatile, scrappy, relentless, young wings who fit so perfectly into the Raptors ideal player prototype. 
Oshae was around for his rookie season last year. The team was deep and he got little to no action. When he did, he played like a rookie. In the G-League that year, his numbers were fine: he had a 55% true shooting on a 22% usage (similar to that of Derrick White this year for comparison). He ended the season with an injury; Toronto waived him – instead of several others – just prior to the start of the 2021 season.
Alize played in the G-Bubble for the 905 this year – his third stint in the development league; Oshae played with the Fort Wayne Mad Ants. Both made their mark. Alize was 2nd in efficiency, 27th in scoring (on 0.5 three-point makes a game), and 2nd in rebounding (he's 6'7") with a 65% true shooting and 21% usage (comparable to Serge Ibaka, Paul Millsap, and Lebron James this year).
Brissett averaged 18.6 points (two threes a game), 9.8 rebounds and 2.3 assists in 12 games with the Red Ants with a 59% true shooting and 21% usage (comparable to Michael Porter Jr. and Derrick Rose).
Each easily defended across multiple positions. 
Their successes warranted 10-day contracts where they proved themselves as NBA talents and both signed multi-year deals with their respective teams.
With the Nets, Alize has played limited minutes; Brooklyn's rotations more or less determined. When he has played, though, he's remained as fiendish in the paint and on the boards as he was with the 905.
His second game with the Nets was against the Jazz with virtually all [important] Nets (no Harden, Durant, Irving, Griffin, or Shamet) sidelined. Alize played 30 minutes and scored 23 points (11/15), had 15 rebounds, 2 steals and 1 foul. Several weeks later, against Oshae's Pacers, and Alize's old team, Alize had 20 points and 21(!) rebounds. 
Blake Murphy and Alex Schiffer of The Athletic dug into the Raptor's reasoning for forgoing Alize just this past week.
Positional fit is a fair alibi. But, re: complaint #2, I don't buy it. They didn't seem concerned about "fit" in February when they desperately needed a big to "fit" in. Henry Ellenson did not exactly resolve the positional deficiency anyway. Feels like they just misread his fit in the NBA.
Oshae was nabbed by the injury-riddled Pacers who, at times (including in that game against the Nets), were without all three bigs: Domantas Sabonis, Myles Turner, and Goga Bitadze. Perhaps, former Raptors assistant coach and current [for now] Pacers Head Coach, Nate Bjorkgren, saw something that the Raps coaching staff did not. 
I have already written about Oshae's effectiveness and versatility at both ends of the floor. He's supremely athletic and consistent at three. At 25 minutes a game, he's shot an absurd 64% true shooting on 7 attempts a game, grabbed 6 boards, and averaged a block per game. 
He's been supremely efficient as a complementary 4/5 hybrid, which is exactly what Indiana needs to pair with Sabonis.
Sabonis discombobulates at the elbow and devastates in the post while Oshae runs around to clean up misses (1.4 offensive rebounds) and spots up for open threes (42% on 3 attempts). On defence, he can hover the perimeter with more versatile forwards allowing Sabonis or Myles Turner to remain in the paint.
To douse the wound in vinegar, Brissett scored a career-high 31 points against the very team that cut him.
Both woulda been real nice for Toronto. Our bench lacked size, athleticism, and versatility. Yuta Watanabe filled the wing role well, but he lacked the power Alize offers and the confidence, to be frank, Oshae demonstrates. Neither are perfect by any means – Oshae's ballhandling and finish around the rim needs much improvement and Alize does not shoot threes – but they guard multiple positions, have offensive chops, and possess potential. They're the precise kinds of metal the Raptors Dev team loves to forge. 
Maybe we're all just spoilt by the mastery of the Raptors' state-building. Our expectations are so high; Masai and company have never led us astray. But the above blunders all feel like major Whiffs. Which, in their entirety, caused significant harm throughout the season and made this year's disappointment all the more intolerable.