I am a Toronto Raptors fan. Deal with it.
Every couple of weeks, you're going to get my thoughts about how they're doing. Deal with it.
On that note, let's discuss ten things I dig and don't dig thus far into the nascent season.
 1. Jack Armstrong Excitement
Jack's no 58-year-old in spirit (his soul, definitely).
His excitement, dejection, and everything in between is closer to prepubescent than quinquagenarian.
There's the professionals, like Kevin Harlan or Gus Johnson, who, I think are excited, or, at least, sound it. But you wouldn't know if it's genuine or not they're so good.
Jack, on the other hand, is as purity as a tray of Jam-Jams. When he's P-Oed about the reffing, he doesn't hold back. When he's stoked on the thought of a Miller Genuine Draft after the game, you can ostensibly hear his lips smack.
And when he get's excited, he gets really, friggin' excited (sound on)!
2. The Mid-Vrange
It's early, early, I know, but optimism abound for us Raptors' fans.
It's no secret that Fred VanVleet has, in the past, had…let's say…challenges closer towards the hoop. Last year, he was in the 21st percentile from the midrange (21st at short mid-range and 40th at long midrange). Twas ugly.
For Fred, much of his work is done shooting from afar: 511 of his 870 shots were from 20 feet and beyond. Knowing that's his thang, defenders push him further above the break to Curry/Dame Lands or rush him off the line and send him deep into the jungle of bodies where Fred has struggled (he was in the 18th percentile at the rim).
That's where the mid-range comes in. If he can hit it at a higher, more accurate clip then defenders can't overplay the three, helpside in the paint can't shadow his penetration. Making his favoured shots – the three and drives – more attainable.
The problem is, Fred hasn't loved the mid-range all that much. Only 26% of his shots came from the mid-range last season and 20% the year before.
Small sample size, but so far, he's upped his attempts to 33%.
His short-mid-range (all that floater, push-shotty, little bunny stuff) hasn't been so hot: 4/13 (Cleaning the Glass didn't have the Indiana game at the time of writing; I can tell you he had a tougher mid-range day). But in the long-mid-range, he's 4/7 and in the 94th percentile.
You can see below that FVV's more inclined to accept the space given to him 10-14 feet from the basket. Arguably, in years past, he would have forgone the pull-up and tried his chances at the rim.
Twice Kyle Kuzma gets FVV off the three-point line after a switch. The first time, FVV curls and "banks" it (notice how far back Gafford is); the second time, FVV steps back and "swishes" it. Then, seeing Zinger wing-spanning the paint, Freddy back step dribbles to find his shot. In the last clip, Kleber does a pretty good job, Freddy just does him one better. You can imagine, the next time Kleber meets FVV, he'll be more likely to bite on a hesitation and surrender the blow-by.
A stronger mid-range incites insecurity in defenders. It also means wider passing lanes, more gaps at the three, and a decimal point of a parsec more at the rim.
3. Douchenozzle Edward Rogers
I have no time for privileged, way-too-wealthy, arrogant people – not the moon-horny-cowboy kind, not the make-children-hate-themselves kind, and, definitely, not the tweet-to-manipulate-crypto/stock kind.
None.
I especially hate them [not actually true, the aforementioned are much worse] when they try and strong-arm the greatest basketball executive of the 21st century. Our very own, greatest basketball executive of the 21st century.
Christine Dobby and Doug Smith of The Star broke a story this week revealing why it took the Raptors so frigging long to give Masai Ujiri whatever he damn well wanted.
Prince Edward Rogers III, who is only remotely relevant to our country's plutocracy because his father was once the fifth-richest person in Canada and owner of Rogers Communications Inc., claimed Masai "was not worth the amount offered" to remain the head Toronto Raptor.
An extremely problematic and inane conclusion.
Problematic and Inane #1:
Masai is worth it.
According to Dobby and Smith, since Masai's arrival to Toronto in 2013, the franchise has increased in value by $500 million. Though, that might be a conservative estimate:
Not to mention Masai won Executive of the Year. Not to mention he won an NBA championship. Not to mention he is the Charles Ponzi of NBA trades.
Other NBA teams literally offered him team equity for him to join forces.
Problematic and Inane #2:
If you don't think he's worth it, then you're (A) a dumbass, (B) a miser of infinite exponentiality, (C) a racist, or (D) all of the above.
Imman's right and, to me, this is what this story's really about. The racist undertone of Rogers' indignance nearly breaches the surface of explicit.
The source in The Star translated "bodyguards" to "Ujiri's long-time driver" and "videographer" – which is not unusual for very busy, rich, successful people. Of course, if you're a black, very busy, rich, successful person: it's a bodyguard. And, if you're a steadfast black, very busy, rich, successful person at the negotiating table: you're arrogant.
Problematic and Inane #3:
Rogers has since been dethroned as the Rogers Communications Board Chairman (a motion made by his very own mother and sister, so we're not alone in thinking he's a douchenozzle).
Imagine, his second last act of stupidity as Chairman was to spurn Masai and leave the Raptors without its valiant leader. And worse, he very nearly precipitated the NBA losing Masai altogether.
Problematic and Inane #4:
Edward and his wife have certain political affiliations.
4. GTJ D
GTJ was not a great defender last year. His lateral quickness is limited, but it also felt like he wasn't invested, or, that he struggled with the scheme.
I'm not sure what offseason conversation he and management had; it probably went somewhat like this (picture a dingy motel somewhere on the 401):
Masai slams a suitcase full of cash on the bed

"It's more than your worth; count it."

Gary Jr. glances up, his eyes peering from his tilted aviators, toothpick twirling in the corner of his mouth

"What's it to you?"

Masai: "Your defence."

Gary Jr.: "And, if I don't?"

Masai: "You will."

Masai turns and leaves with his bodyguards (sorry, I mean driver and videographer).
Thus far, the hard data suggests Gary conceded to Masai's will (everyone ultimately does). He's second in total deflections, tied for third in defensive loose balls recovered, and first in steals (including the Indiana game).
Possession-to-possession you see it too:
Out on the perimeter:
Down in the post:
Helpside:
You watch that collection and two words come to mind: active and aggressive.
Neither are sufficient to be a good defender. Activity balances with patience, diligence, and focus. Aggression pairs nicely with a palette of selectiveness, timing, and finesse. Just ask Kyle. Never mind he's busy.
(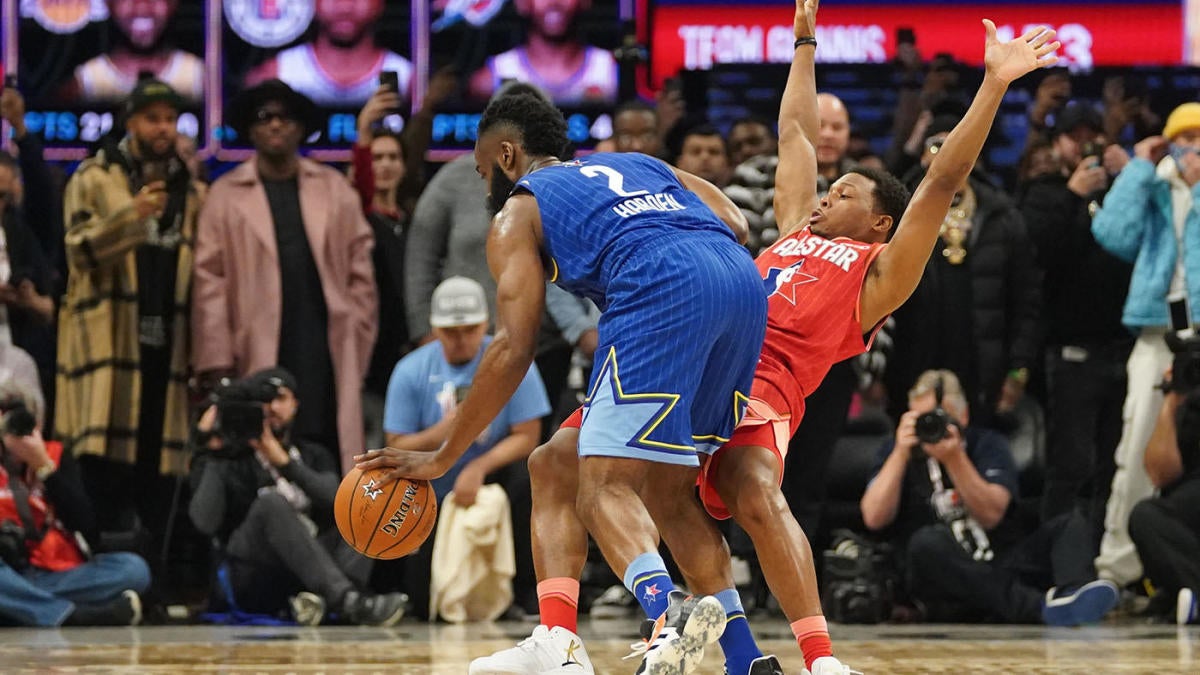 )
From the videos above, you can see Gary choosing his spots wisely. He switches on to Jaylen Brown seamlessly, bum rushes Zach Lavine off the three-point line to force him to his left hand, and get's up in Al Horford's grill because Al's as slow as a stoned brontosaurus. He rightly gambles fronting Harrel and, perfectly, times the trap-clamping on Jayson Tatum.
Defence is risky business – unless you're a monster cave-dwelling in Philly or Utah  – sometimes it pays off and sometimes (like Gary's costly gamble at the end of the Bulls game) it doesn't.
You're bound to have a miscue or two. Each subsequent game, Gary has demonstrated that defence is about to be his calling card, working just as hard on the defensive end as he does to get his shot.
An excellent sign from a young, developing player and this capricious roster.
5. Tsk Tsk, Chris, Chris
Returning to form is a two-way street.
We cut an injured player slack for getting back into game shape, adjusting to game speed, etc.
The injured player in turn is supposed to be a tad more deferential and patient on the court.
That's why Boucher's not getting minutes and why he doesn't deserve getting minutes.
His shot selection's worse than the bleached veggies at Subway.
He's 3/18 from 20 ft and beyond. Fine, we're not all perfect.
But look at the junk he's firing off:
He looks like me at the office spinning on a fade-away with a crumpled piece of paper at the recycling bin, yelling, "Kobe" at Rick who's printing copies and staring at me dead-eyed like I'm high.
Do I need to tell you why these are so fucking bad?
I'll assume yes:
Most are heavily contested.
Few are in the flow of the offence; those that are, a much better option exists one pass away (the first shot against Washington, for example, GTJ is widddeeee open).
He's shooting early enough in the shot clock (Jack even says at one point "there's plenty of time heehya" right before Boucher hoists) that there's definitely something, ANYTHING, better available.
They're horribly, horribly, horribly inaccurate.
So, ya, there's a verrrry good reason why his minutes have dwindled from 17→20→8→5→18.
Current trade value: 
A twelve-pack of Black Horse; Tremblay; Lakeport; Pilsner; or Lucky. Depending on your consumption geography.
6. Deflectathon Check-In
I said last 10 things I dig and don't dig that deflections would be something to monitor. A high rate suggests disruption and bedlam. A low rate would be worrisome: either their defence is not as elite as we had thought or teams have figured them out.
I am happy to report: so far, so verrrrry good.
Toronto leads the league in deflections by a kilometre.
There are 4 Raptors in the top 10: Fred VanVleet is 1st, Gary Trent Jr 2nd, OG Anunoby tied for 4th, and Scottie Barnes tied for 10th.
In their three losses, they've averaged 17.7 deflections; in their two wins, they've averaged 27.5.
Deflections, of course, have their own inherent value; they shorten shot clocks and engender ugly sets.
But the Raptors are also capitalizing on those knocked dribbles and batted passes.
The team leads the league in defensive loose balls collected with Precious Achiuwa leading the league and in steals with Gary atop all others, OG tied for 4th, and FVV tied for 6th.
When it's working, it's really working.
Are they winning all their games? No.
But that's put-ball-in-the-hoop stuff. Another department.
As we witnessed against Boston and last night against Indiana, when this defence is CLICKing, they make playing the game of basketball a very unfun, disheartening affair.
7. The Mission Impossible Revelation
Not sure you've done your MI research lately, but I'm pretty sure every single movie (apparently, there will be 8 of them by 2023) has had a mask reveal.
At some point, in some scene, someone has 3D-printed a realistic, fleshy mask, worn it as an imposter, and revealed to the audience (shame on us for not suspecting every character of not being who they claim to be) the ruse.
Kind of a spoiler alert:
Anyway, I am starting to wonder about Scottie Barnes. Cause we got this:
And then on Tuesday night we got this: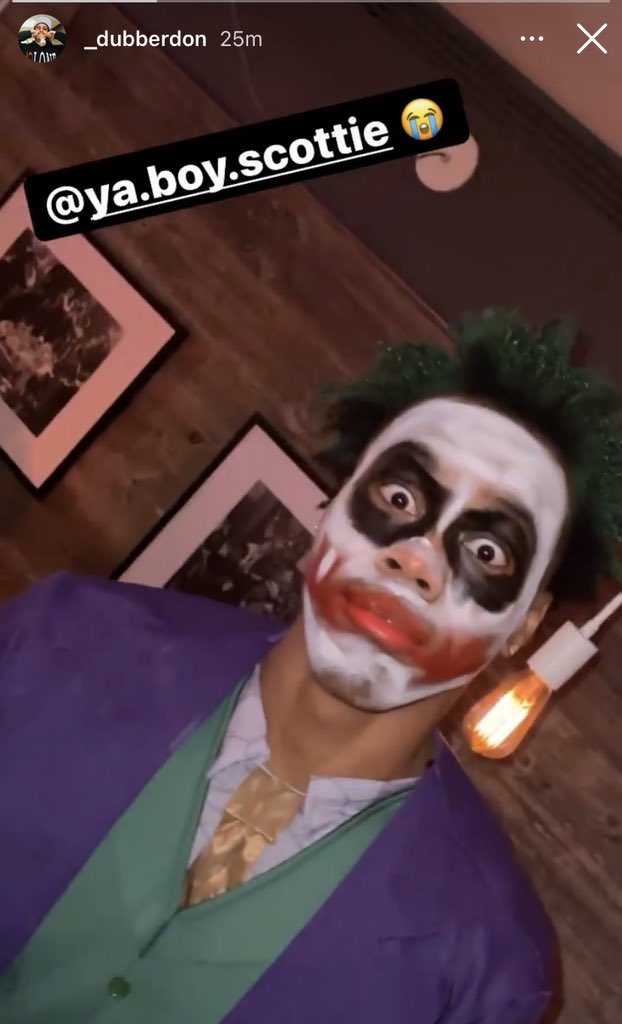 It all makes sense.
Joker's anarchical. Violently obsessed with: Destruction. Chaos. Schadenfreude. That's his jam.
Scottie's maniacal. Zealously committed to: Full-court presses. Offensive rebounds. Yelling. Hushing. That's his jam.
Is Joker Scottie or is Scottie Joker?
Is this an MI revelation or is there something even more diabolical going down?
Perhaps, we're looking at a Face-Off storyline.
Time will tell.
Until then, Batman, beware.
8. No-Look Hook Up
Not all no-lookers are the same.
1. No-Look Style Points
The No-Look-Style-Points has everything to do with pizazz and little to do with passing. As in, the ball definitely would have gotten to the receiver anyway. But basketball's as much about flair as it is execution, so why not make it look rad?
Exhibit A:
2. No-Look Misdirection
The No-Look Misdirection is the Big Mac of no-lookers. A tasty classic (can we get a Beyond Meat version @McDonald's? It's the 2020s for goodness sake, I WANT TO ENJOY A BURGER AND SAVE THE WORLD AT THE SAME TIME IS THAT TOO MUCH TO ASK!?)
Sorry.
Attacking the paint or going downhill in transition, a playmaker must seem predictable to the mustering help defenders. At that moment, the No-Look Misdirection feints towards the predictable giving an arrogant defender all the self-confidence they need to put their Converses in their mouthes.
The passer either looks towards the obvious recipient or somewhere in oblivion where Force-Ghost Pete Maravich sits eating a Force-Ghost hotdog alongside Obi-Wan Kenobi, Yoda, and, now, sadly, Luke Skywalker.
Ideally performed, the befooled defence freezes or, at best, bites entirely and shifts the wrong way. The pass goes where none foresaw and Mamma Mia! A no-looker!
Exhibit B:
(I actually rewatched the video and still looked at the wrong player.)
3. The Blind No-Looker
Then there's the no-looker where you are physically unable to see.
It's not a "Are you going to look? No, I'd prefer not," kind of a no-looker, but a "Can you look? No, I literally can't see," kind of a no-looker.
That was the magic Freddy VV conjured last Friday.
Exhibit C:
Think about what's going on here:
Fred's dribbling the opposite direction of Precious and the hoop;
TimeLord's warping gravity and Deathstar-size absorbs Fred's drive and eclipses his view;
Jaylen's late on his switch (seriously, how many quaaludes was JB on that night, or is OG that damn good of a defender?), but he's still a major threat to the passing lanes upon recovery;
Lastly, Fred's little Tyrannosaurus Rex arms (dInosauRONY, I know) have to, along with the ball, reach around TimeLord to hit Precious at the right time in the right spot.
Magnifique.
Might be the pass of the year.
It doesn't stop there though. As Philosopher, Khalil Gibran, says, "It is well to give when asked, but it is better to give unasked, through understanding."
Precious knows his Gibran. Next game, he gives a little HULLO to Freddy V on a curl and returns the favour.
9. Fred VanVleet and Precious Lobs
Speaking of Freddy and Precious relations.
These guys reallllllly gotta figure out the lob stuff. These connections are integral to our emaciated half-court ventures.
So far, FVV and Precious are 3/7 on alley-oops together. Not bad. But we can't afford point-blank misses at the rim.
For Fred, especially, lanes to the hoop aren't exactly wide; having a rim-running Super Soldier is vital to exploiting switches. (You saw what having just Aron Baynes and Alex Len [*shudder*] was like last year).
Without the threat, Precious and FVV's defenders need only contain the action.
With the threat, no one's safe: if Precious' defender hedges, Precious is there for the lob. If FVV's defender switches, both have a mismatch. If helpside overcommits to bump Precious (preventing him from jumping cleanly) the corner three is open for a kick+pop or kick+swing. (Conversely, if you don't have a strong three-point shooter in the corner, that helpside will crowd the paint and take their risk upon the recovery).
You'll see what I'm talking about here:
In this clip it's Fred's bad. He needs to identify whether to throw the lob or not.
Sidenote: FVV and Precious have the whole side of the court to operate, if Precious hit Lonzo Ball on his right side, FVV goes down the pipe and Precious can swing in for a baseline cram – making it hard for helpside to assist. Instead, Precious barrels down the lane and runs into a fist of Bulls.
Fred should recognize the crowd and hit the cross-court pass to the wing where stands a soooooo wide-open OG. It's a hard pass to make (someone at 6'8″ would have no problem making that pass…just sayin'), but it's one FVV has to make. The irony is FVV gets the rebound and finds OG anyway…for the miss.
In this one, it's Precious' fault. He straight lines it down the paint. Perhaps, a bigger body could afford to do so, but he needs to create a wider angle so as to avoid Vučević's Montenegrin booty from sealing him out, or, pull a Khem and slow down for the drop-off and the tear-drop.
How to fix these misses?
Find more space for the two to attack, get more action on the weakside to distract bumpers while the Oops are going down, and have better shooters. On the following makes, helpside fails to block Precious' path and you see the consequences.
Better help defenders won't make that mistake unless they're preoccupied. So you gotta keep'em busy or avoid'em altogether.
10. A home for our boy
We couldn't sign him. My heart sings a little louder knowing someone did.
Ish, would you mind giving sicko Robert Sarver a taste of his own medicine and load his office up with goats.