*all statistics and standings are prior to Wednesday night games
The NBA's an old boys' league.
Whatever you see and think six or seven games into the regular season is nothing what's going to be so in April.
Because all them old boys know better. To supercharge in October is to flame out in March. It's a slow patient build; avoid a total hemorrhage of losses and go for the win transfusion in the new year.
Case in point:
The Chicago Bulls, New York Knicks, Washington Wizards are 1st, 2nd, and 2nd, respectively, in the East. While the Brooklyn Nets, Milwaukee Bucks, and Boston Celtics are 8th, 10th, and 12th.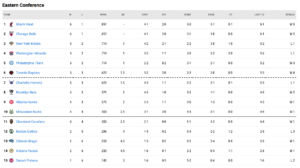 We all know that ain't gonna last.
The West is a little more in line, but there are 9 teams ranging from 5-3 to 2-4. One W or L changes the entire landscape. The Lakers, Blazers, and Suns can flip that switch.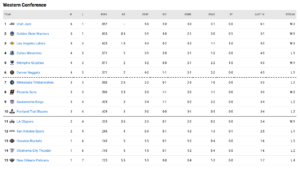 Allllll of that said, there are teams who have surprised, for better or worse, and who seem poised to maintain that success – or failure – for the remainder of the season.
The Cleveland Cavaliers
Current Record: 4-4
Current Pace: 41-41
Preseason Prediction:
Adon: Under 27 wins
Additions: Lauri Markkanen, Evan Mobley (drafted), Ricky Rubio, Denzel Valentine, Tacko Fall
I should know better.
I bet, among others, Darius Garland to win Most Improved Player (+2000). I drafted Evan Mobley and Isaac Okoro in my Dynasty League, and have loved Colin Sexton since he single-handedly – literally – kept Alabama alive when they had to play the last ten minutes of the game with only 3 players.
They solidified their frontcourt by drafting potential Rookie of the Year and, already defensive spiderman, Evan Mobley, signing and trading for stretch-forward, Lauri Markannen, and re-upping paint gobbler, Jarret Allen. With the addition of Ricky Rubio, Kevin Love emerging from his tantrum cave, and the combination of a third-year from Darius Garland and a contract year for Collin Sexton, this team has the makings of an up-and-comer.
A .500 record isn't anything to write home about, but when analysts had this team buried in their predictions, it's quite the accomplishment.
Cleveland's beat Atlanta, LAC, Denver, and have split games with the also-rising Charlotte Hornets. The Cavs, in turn, blew a late lead to LAL, and lost to the Suns and surging Memphis Grizzlies.
That's a promising set of results: good wins and tough losses against solid teams.
The team's scoring in a meagre, but shared fashion. Sexton leads the team with 17 points per game. After that, there are 6 other players averaging double figures. That kind of depth in scoring helps to win ball games against unsuspecting foes early and maintains balance.
They lack the pop, overall, as an offence; they're 20th in offensive rating, 21st in scoring, 2nd last in 3-pointers made, and 26th in points scored on drives. That all checks out when the starting lineup is composed of Lauri (6'11"), Mobley (6'11"), and Allen (6'10"), who make a total of 2.1 threes a game (Allen and Mobley combine for 0.3), and Sexton (24%) and Garland (31%) who are both shooting sub-career averages. There's just not a lot of space, particularly, with little threat from afar.
The Cavs stay alive at the rim and in the key, where 36% of their shots come – they're 2nd in the league in points in the paint and 1st in touches in the paint. Not through penetration or post-up, but by crashing the boards – 84th percentile in putbacks – rolling off screens, attacking at the elbow, and restricted area actions – like lobs and high-low actions to any of the three brontosauruses chowing on treetops.
There's room to grow offensively; I, certainly, don't think they get much worse.
Markannen, Sexton, and Garland all are shooting below their career averages. With improved shooting, comes the widening of lanes, greater penetration, more paint and rebounding pressure, and so on. Most importantly, though, Mobley's just starting to test the waters.
With shooting:
And passing:
And handling and playmaking:
Where, defensively, they rated as 25th last year, Cleveland's, so far, 10th. They're also in the 72nd percentile in opponent turnover percentage and 93rd in opposing free throw rate suggesting an aggressive and disciplined team.
It's all the more surprising with their Triple Tower starters in a league trending smaller and more agile. They succeed because Mobley's omnipresent. He's lithe, quick, long, and intelligent. Cleveland sticks him on the larger wing or agile big and hope for the best with Lauri on the smaller wing. Mobley roams and covers space quickly to help anyone beaten; Allen looms waiting at the rim to clamp down on whatever gets through the 1st and 2nd lines – as a team, they're 4th in contested 2-pointers.
When all three of them are on the floor, they allow 99.7 points per 100 possessions – placing them in the 89th percentile in the league. With Sexton and Rubio in the backcourt (only 74 possessions so far), they allow a stifling 92.1 points, which would be a team league-best. When Ricky Rubio is on the court, teams shoot 4% worse.
Isaac Okoro, a sophomore, is becoming a lockdown perimeter guard. His numbers don't show it yet, but when you see these kinds of possessions below, you know it's coming. A vital ingredient to an undersized pair in Sexton and Garland in the backcourt.
According to Tankathon, Cleveland has the 8th toughest schedule remaining, but I don't think the Play-In is too lofty a goal.
They're young, tenacious, not interested in tanking, and have room to grow. Mobley's development over the last 8 games has been sizable; come halfway through the season, he could be a major problem for the rest of the league.
Toronto Raptors
Current Record: 5-3
Current Pace: 51-31
Preseason Prediction:
Adon: Over 37 wins
Additions: Scottie Barnes (drafted), Dalano Banton (drafted), Justin Champagnie (drafted), Svi Mykhailiuk, Sam Dekker, and Isaac Bonga
BenchBoss has covered the Toronto Raptors extensively, thus far, this season. They're a freak experiment everyone's watching attentively for it to fail, intrigued if it will succeed.
The lows are dredging silt and mud low. Their emaciated half-court offence was seen kilometres away by everyone with a SLAM magazine subscription. Especially, with Pascal Siakam out for some time.
They're in the 11th percentile for at-rim percentage, 31st percentile for three-point percentage, and 55th in the midrange. It's pitiful.
So often, the shot clock winds to the final seconds and OG Anunoby or Fred VanVleet are forced to fling desperately. They create little rim pressure and have few players who can consistently find a hoop in isolation. OG and Fred's scoring capabilities surge by the day, but they lack consistency.
OG's understanding of when to attack and how is still underdeveloped and will take time. Fred VanVleet, who, time and again has shown up just when the Raptors need him is still an undersized guard with five sets of eyes staring him down; he has struggled shooting the ball from three at a high clip.
Scottie Barnes, Toronto's second messiah, is what's made the difference between this team basement-dwelling and being a legitimate menace to the League. He's averaging 18/9/2 and has the highest true shooting percentage on the team for Raptors over 20% usage rate.
He offloads an immense output of energy on both ends of the court. He's tenacious on defence and finds ways to score despite his poor three-point shooting and slower first-step. He's a particular monster on the glass. He's almost always larger than whoever's guarding him; when teams put bigs on him he rips by them. Teams not prepared to be held accountable on rebounding are feeling the consequences.
Indeed, it's offensive rebounding that has kept Toronto alive: they're in the 95th percentile for offensive rebounding percentage and lead the league in offensive rebounds per game. They don't score at a high rate off putbacks – they're in the middle of the league – but it keeps them afloat.
Their defence and the ensuing bedlam is what keeps Toronto a looming threat. They terrorize teams: they're 1st in steals, 1st in deflections, 1st in defensive loose balls recovered, 1st in opponents scoring in the paint, 2nd in opponents field goals made, and 3rd in points allowed. They are 8th in the NBA's defensive rating.
On a hot defensive night, teams, like Washington and Boston, who average 117 and 114 points a game, suddenly, score 98 and 83, respectively.
There's no caveats here. The eye test confirms it. They harangue, poke, intercept, strip, double, pressure, pester, trap. They do it all.
When all five guys aren't co-operating, things fall apart. They don't want to allow threes; they want to push guys off the line force them into the lanes and scramble and recover accordingly. That's a dangerous game to play; great attackers will find holes and open shooters. The Raptors experienced it in their season-opening collapse against Washington and when Luke Dončić came to town and torched in the second half.
When it does work it's frightening. Jaylen Brown's experience was misery. He's averaging 27 a game on 50% shooting; against Toronto, he had 9 points on 23% shooting. In the 1st quarter against the New York Knicks, Julius Randle had 18; he scored 4 the rest of the game. OG is a major reason for that. He's an All-NBA defensive talent and should make one of the teams this year.
It's going to be a tumultuous year no doubt. Toronto, supposedly, has the 2nd most difficult strength of schedule remaining. The Nets, 76ers, Knicks, and Celtics are in their division – eek!
This style of play leaves for all sorts of anomalies – good and bad surprises. When they're rolling, they're perilous; when they're not, it's worse than watching re-runs of Home Improvement.
Toronto's potential also remains high this season, which could translate into sustained success:
They are shooting a dreadful three-point percentage
Their three forward/centres – Khem Birch (25th), Chris Boucher (5th), and Precious (2nd) –  are treading at the bottom percentile for bigs' effective field goal percentage;
They are 2-0 without their injured rookie sensation;
They expect Pascal Siakam's return in the coming weeks;
They have beaten New York and narrowly lost to Chicago and Dallas – some of the upper-tier teams in the League thus far; and
They have a budding star in OG Anunoby who is only going to get better and more comfortable as a high-usage player. We witnessed his newest growth at Madison Square Garden on Monday with career highs in points and usage:
Boston Celtics
Current Record: 2-5
Current Pace: 25-57
Preseason Prediction:
Adon: Over 47 wins
Additions: Josh Richardson, Al Horford, Dennis Schröder, Enes Kanter, Juancho Hernangomez
Despite Kyrie Irving and Ben Simmons, Boston's anointed as headache of the year thus far.
Things are at the precipice of dysfunction already.
Even with a new General Manager, formerly their head coach Brad Stevens, and a new coach in Ime Udoka, there are high expectations for this Celtics team.
It's arguably, on paper, their deepest roster since the Al Horford, Kyrie Irving, and Marcus Morris bunch from 2017. Their centre position is finally established; they have more options in their backcourt than a year ago; and, most importantly, their adolescent All-Stars, Jayson Tatum and Jaylen Brown, are reaching the peak of their powers.
And, yet, they've lost 5 of their 7 games.
To be fair, two of those losses came in double overtime to two of the best records in the league, Washington and New York. But they also got whooped by Toronto, Chicago, and Washington. It's not that they're merely losing, but that they're imploding – including a 39-11 4th quarter against the Bulls and a 64-36 2nd half against the Raptors.
There's no resilience nor balance. The Celtics have only had 30 total possessions without either of the Jays on the court. In those possessions, the Celtics have one of the better offences in the league (go figure), but give up the most points.
Really, though, there's nowhere else to turn – without Jaylen their point differential drops from the 67th percentile to the 6th; without Jayson it drops from the 40th to the 14th. And, when only 4% of your team's possessions are without either of your two best players, you know something's amiss.
With the losing, there's grumbling. Marcus Smart said of recent:
Of course, this is coming from the guy scoring 9 points a game on 29% shooting, so…
The passing story also doesn't check out. They're seventh in passes made, in the middle of the pack in assists and secondary assists, and sixth in potential assists.
The real problem – at both ends – is three-point shooting and free throws. Boston's in the bottom third of three-point shooting accuracy and in the bottom quarter in opponent three-point accuracy. That kind of contrast can be a question of luck, effort, scheme, or a combination of all three.
It does not seem to be their defensive effort or schematics. Boston is one of the best teams in the league in at-rim and mid-range defence percentage. Al Horford and Robert Williams the III let little go at the rim – they're 1st and 5th in blocks and 2nd and 6th, respectively, in contested shots; Tatum, Brown, and Smart are all long and versatile on the perimeter. Smart's 3rd in steals and 8th in deflections. Boston's defence falls off a cliff if either Tatum or Brown are off the court.
This, in fact, may just be a question of luck. Boston gives up the 12th fewest wide-open threes and is 17th in contested three-point shots, yet they're 23rd in wide-open three opponent percentage (meaning opponents hit a high rate of the threes available to them).
It also doesn't help, that Boston gives up a league-worst 25 free throw attempts a game – it's only -3 points differential in free throws made – and foul more than any other team.
That's on defence.
On offence, things are bit uglier. They're middle of the pack in at-rim accuracy, but don't get there all that often. In the mid-range, they're, abhorrently, in the 4th percentile in field goal percentage, but take the 12th most shots in the league. They're also shooting in the 33rd percentile for three-pointer accuracy. Of their high usage players, only Jaylen Brown is shooting 50% (if I round up).
They're simply just not hitting their shots and other teams are.
Higher hopes prevail that they'll figure this out. Despite shooting hot-fire garbage, they're 4th in the league in scoring – their high free throw rate is keeping them going.
If someone, anyone, from the guard position – Smart is 9/30 and Schröder is 9/35 in their last 3 games – can provide a steady flow of offence and a couple more shots bounce their team's way the Celtics could turn this all around in a jiffy.
If they don't and the in-fighting persists – which is becoming a little bit of a multi-year theme with the Celtics – may I suggest the following: