In case you left planet Earth on Tuesday night, the Toronto Raptors' Fred Van Vleet set a franchise record, erupting for 54 points on a velvety 17/23 shooting against the Orlando Magic.
FVV also surpassed Moses Malone for most points ever scored by an undrafted player. 
The ascendance of Fred Van Vleet from passed-over-in-the-draft to elite NBA player is a well-recorded tale. His persistence culminated this summer with a 4-year/$85 million extension. 
It is true that every NBA player's story is a righteous one. The chances of getting drafted from the NCAA is roughly 1.6%. That's excluding the international cadre growing in size and skill every year. 
Anyone getting to the League is a conqueror of discipline, skill, and determination. Nothing should be taken away from that.
But the story of the Undrafted has an added level of incredulity. The majority of draftees are preordained. Their NBA careers often materializing well before finishing puberty. Lebron was seventeen when he first appeared on the cover of Sports Illustrated. 
For the Undrafted, there is none of that certainty.
And yet, as Zach Kram of The Ringer recently discussed, there has been an uptick not only in the number of undrafted players in the NBA but of their impact on winning.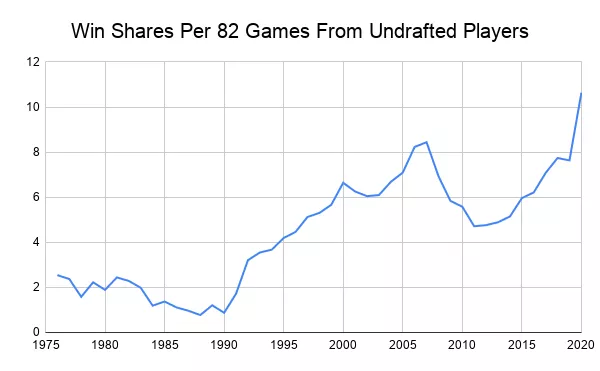 Why now, you may ask?
Zach suggests two major factors. First, over the past twenty years the G-League has grown to twenty-eight teams – effectively giving franchises a centralized space to observe prospective players (and coaches) competing at a near-NBA level competition. 
Second, the invention of two-way contracts limits franchises' risks and increases Undrafteds' opportunities. Before, teams could only take on as many players as they had roster spots. For those who made it, their minutes were inevitably miniscule. Now, players jump comfortably between teams, simultaneously sampling NBA ass-whoopings and developing as a primary option in the G-League. 
That, in addition to a witch's brew of analytics, improved scouting, higher level of talent, and greater player development has increased the potential for Undrafteds to succeed. This year, too, with the number of COVID-related DNPs, more guys are getting the chance to play meaningful minutes.
Still, it is damn hard. Undrafteds have none of the pedigree or hype that drafted players can leverage in getting a contract.  Look across the league. Failed draftees find opportunities of redemption over and over again. Some eventually fall out. Others meander roster to roster.
Undrafteds, they have to go about it the blue-collar way. Extracting value from the smallest opportunities on the court. Few are found as ready-made specialists. You see it once in a while – Seth Curry and Duncan Robinson are snipers, Luguentz Dort and TJ McConnell are defensive rubber cement – but most bring only incremental value.
A little hustle here, a little flash of offence there. Over time, if they can increase volume and maintain efficiency, those contributions become constant and impactful. We saw this with Fred Van Vleet. 
In his first three years in the league, his usage decreased each season, but his defensive rating, assist percentage, and three-point percentage either improved or remained the same despite playing more minutes. By year four, he was producing at the same clip, but with starters' minutes.
The following Undrafteds are players demonstrating similar FVV precursors. They are guys making their mark in, perhaps, discrete ways, but who show potential of flourishing into bonafide NBA players. 
Note: to make this list, players had to have played at least ten games and average at least eight minutes a game (the equivalent to FVV's first year). 
The Undrafteds
Honourable Mentions: David Nwaba, Garrison Matthews, Max Strus, Michael Mulder, Naz Reid
      1. Mason Jones, Houston Rockets
The night James Harden abandoned the Houston Rockets, Mason Jones got twelve minutes of action in the fourth quarter – his most of the season. Two days later Harden went bye-bye and the rest of the Rockets' guards were injured. Mason Jones suddenly went from playing garbage time to averaging sixteen minutes over the next six games. 
During that stretch, he led the league in true shooting percentage and had a usage rate higher than the Undrafted King himself. Granted, his assist-to-turnover ratio was ugly and he sucked on defence giving up 112 points per 100 possessions, but those are both areas where rookies – especially in a year without a Summer League and a shortened training camp – are expected to struggle. 
Those parts of his game will hopefully come in time, as they did for FVV. For now, he's a sharpshooter leaving a trail of playmaking crumbs. 

      2. Jae'Sean Tate, Houston Rockets
Houston happens to have several Undrafteds (David Nwaba, Christian Wood, Danuel House Jr.)  playing in its rotation, but Jae'Sean Tate is the surprise of the bunch. The Houston Rockets are 6-1 over their last seven games as of Wednesday morning, which also happens to coincide with Tate entering the starting lineup. And let me tell you, this dude rumbles.
In that span, Tate is playing twenty-six minutes a game and averaging a modest eight points, six rebounds, and one assist, but is doing so on 68% true shooting – a mark higher than Dame Lillard and Steph Curry. 
His game is a bit unorthodox (he's left-handed and is McDonald's Triple Thick thick). He's a compressed OG Anunoby. He's a point-forward-wing-guard(?). However you want to label him, he troubles every position on the floor at both ends. Bigs struggle with his agility and guards wither beneath his girth.  
Watch Tate literally walk around Jakob Pöltl and Rudy Gay, and then storm right through another thick boy, Keldon Johnson. 

Tate is also fifth in the league during that stretch in defensive rating, nineteenth in box outs, and thirteenth in rebounds collected off of a box out, which you absolutely love to see from your guard! Among those leaders, he is the shortest player, by many several inches, and ahead of the likes of Rudy Gobert, DeAndre Ayton, and Nikola Vucevic. 
His size and quickness could plague the gamut of NBA positions for years to come . In these three possessions he swallows shooting guard Delon Wright whole, forces slasher Jerami Grant into a turnover, and stuffs combo-guard Derek Rose after facing him down mano e mano. Is there no player safe?

      3. Yuta Watanabe, Toronto Raptors
Yuta has played intermittently this season for the Toronto Raptors. But, recently, Nick Nurse has had a hell of a time finding someone he can trust at the back-up centre/power forward positions and has turned to Yuta. 
Another small sample size, I know. But over the span of the last seven games, Yuta has a 67% true shooting tied with Giannis Antetokounmpo and Eric Gordon, and shares a defensive rating with former DPOY, Rudy Gobert, and rookie-of-the-year candidate, Tyrese Haliburton. 
Yuta gives the Raptors much needed flexibility on both sides of the ball. He is a playmaking big, who can shoot (he's shooting 47% from three on 1.5 attempts a game) and attack when the opportunities arise. 

He also plays hard defense against guys quicker and bigger than him, and makes smart decisions off-ball. This enables the Raptors to play that aggressive, frantic defensive-style Nick Nurse adores. That being the exact word Coach Nurse uses to describe Yuta.
"He plays a bit frantic," said Nick Nurse, "cause he's just playing so hard all the time…and is constantly in motion." If he keeps doing that, Yuta will follow a long line of Toronto Raptor development success stories.  

      4. Gabe Vincent, Miami Heat
Like Mason Jones, Gabe Vincent was buried deep on the bench to start the season. Then injuries and COVID downed nearly half of the Miami Heat's roster.
Vincent's second time playing this season was in a start against the Philadelphia 76ers. But you wouldn't have known it. Vincent launched twenty shots and had a usage rate of twenty-six, second to only Tyler Herro that game. 
For the next ten games, Vincent averaged twenty minutes of playing time with unenviable statistics. He did not shoot well, he turned the ball over, and had middling offensive and defensive ratings. 
And, yet, and yet, he has the look of an FVV-in-the-making. At 6'4" 200 lbs, he's an XL Van Vleet who moves with the same methodical prowling tread, lurking about, waiting for the right moment to flow into a pull up.  

(Tell me that doesn't look Van-Vleet-esque.)
Or a sneaky floater.

 Or looping lay-ups.

The Undrafteds are the backbone of the NBA. They don't draw the fans or attract the endorsements, but they undergird the system. They hone the tip of the NBA's spear.
They keep players honest, knowing that a group of players are putting in the time day-in-day-out waiting for their moment. You slip-up, they're there.
After that, as FVV proved, anything can happen.