Few, if any, foresaw the Golden State Warriors' league dominance a quarter into the 2021-22 season.
Espn predicted them 11th in the league; Five Thirty Eight projected their playoffs odds at 25% (it's at 99% now); NBA.com placed them 6th in the west.
Wrong. Wrong. And wrong.
Most warily constructed their Warriors' success/failure matrix upon Klay Thompson's return. Were he at all proximate to his old self, then Golden State has a chance; if not, they don't. Experts hedged their optimism accordingly.
That assumption also implied that the Warriors' path to success was through its offensive prowess. Fair enough. This is, after all, the team that revolutionized the way basketball is played today, won 74 games, appeared in 5 straight NBA championships, has one of the greatest scorers all time, and two – if not THE two – of the best shooters in NBA history.
Offence would seem to be their path to triumph, as it once had before.
It is, indeed, a major part of it. After their loss to the Phoenix Suns on Tuesday, the Warriors are 2nd in offensive rating. But it's not the sole reason they're tied for a league-best 18-3 record to start the season.
That, and that alone, is a result of their defence.
Thus far, they're 1st in defensive rating by a 4-point margin holding teams to a league-low 100.5 points per game and 42% shooting. They're also 1st in steals, 2nd in deflections, 3rd in defensive rebounding, and 5th in contested shots.
Funnily enough, we shouldn't be all that surprised. Last year, Golden State was 5th in defensive rating too. This year, with a deeper roster, a wholehearted commitment to a non-traditional centre program, a revived Draymond Green, and an empowered Andrew Wiggins, Golden State has set itself up for a deep post-season run – regardless of Klay's return.
The System
Golden State wants you to shoot long 2s – who doesn't? They lack a traditional rim-defending or post-defiant big; 7-footer, James Wiseman, wasn't ready last year for the role and is still injured this year. Not that his health would change much.
Kevon Looney and Draymond Green are 6'8″ and 6'5″ respectively, vertical challenges above the rim isn't their jam. Instead, the objective, ideally, is to force teams off of the three-point line, initially, and into the lane, where the industrious swarm of Warrior defenders crowd the paint and force turnovers, pullups, or kickouts – the subsequent scramble is welcomed.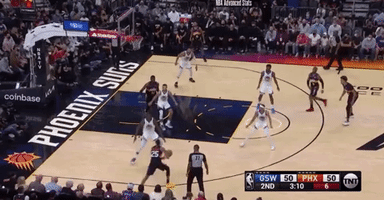 Scheme executed perfectly EXCEPTTTTT Otto Porter Jr. half-hearted, mid-air stall close out.
This next one is a pretty simple example. Paul George is the focus of concern. At one point, as PG gets closer to the rim there are four Warriors in the paint. Paul settles for a pull-up and misses. Mission accomplished.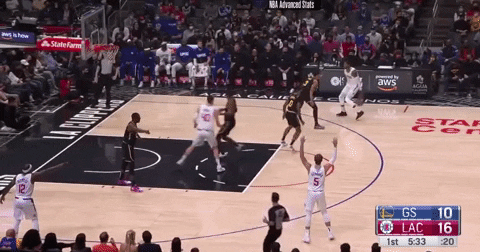 When the opposing team does read the overplay and swings the ball; that's when the coordinated scramble ensues. Everyone's running their guy off the line. Even on the eventual score, instead of crowding Cam Johnson's drive, Chris Chiozza is sidling up to Chris Paul in the corner. They'll live with a running lay-up all day.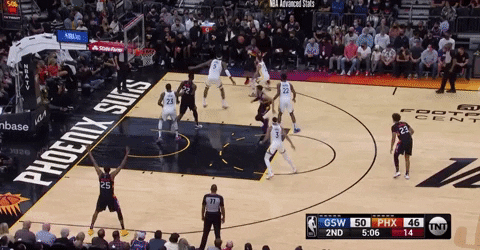 Everyone and their pet gerbils want Eric Bledsoe to shoot at all times. Nonetheless, again, you see the Warriors disinterest in contesting the mid-range.
Dray stunts Bledsoe, but doesn't challenge completely, more wary of Iviza Zubac's roll. Everyone stays put on the 3.
The strategy bears out in terms of percentages too. The Warriors give up the least number of rim attempts at just 26% and give up the least points in the paint, while, conversely, give up the 3rd most mid-range attempts (35%).
They do give up a fair number of threes. They're 22nd in threes attempted against them, which might be cause for concern. On the one hand, teams are shooting 32.5% on open and wide-open threes against Golden State, which is low for that kind of space. Some of that is strategy depending on who exactly is taking those threes, but, over time, you'd expect more of those to fall. On the other hand, teams are shooting exactly the league average in 3-point accuracy (34%). There could be a course correction; there might not.
Breaking it down further though, the Warriors give up the 3rd most attempts in the non-restricted area of the paint and the least number in the restricted area. And, on threes, they give up the 6th most corner threes, but are middle of the pack in above-the-break 3s. In other words, the Warriors are consciously allowing certain types of 2s and 3s within a larger strategy.
Whatever the ultimate goal, this kind of scheme is complicated. Players need to understand the play unfolding and make instantaneous decisions on which type of shot they do or do not want to allow. That requires a lot of communication, timing, and positional awareness. If someone misses an assignment, is late for help, or lazy on a close-out (ie: OPJ above), the whole scheme unzips. The Warriors have the benefit of institutional knowledge and consistency with guys like Looney, Steph Curry, Jordan Poole, Draymond, Damion Lee, and Andre Iguodala playing together for multiple years.
QB Draymond Green
Everything's a bit easier if Draymond Green, one of the best defensive players in the NBA ever, is quarterbacking your team.
Of players averaging 30 minutes or more a game, Dray's fourth in estimated defensive plus/minus. With him on the floor, the Warriors give up only 103 points per 100/possessions, good enough for the 88th percentile in the league. He's the glue filling the Warriors' seams: taking on the primary scoring big, remedying breakdowns, and challenging guys both at the rim and on the perimeter. We've seen it time and again. Dray predicting plays by throwing his body in the way, directing another Warrior to do the bidding on his behalf, or being two places at once, like here where he hedges the pick and roll and retreats to challenge the rolling Ayton at the rim.
Take a watch of this montage. All just more Draymond wandering the half-court supporting teammates, disrupting plays, and, oh ya, D-ing up one of the top 10 scorers all-time, Kevin Durant.
Wing Depth
Golden State's replenished their dearth of wings from a year ago. The Warriors brought back Andre Iguodala and signed Otto Porter Jr. (and got him back into shape) both of whom are a step slower than they once were, but are elite positional defenders and long – thickening passing lanes and obscuring open shots. Teams score significantly less when Otto (-4 points per 100 possessions) or Iggy (-12 points per 100 possessions) are on the floor.
Incumbents Andrew Wiggins, Juan Toscano-Anderson, and Damion Lee all have another year of Warrior defence basketball under their belt. They're more in tune with the style of defence and their responsibilities. Even rookies Jonathan Kuminga and Moses Moody are two additional long and athletic bodies integrating into the system.
Having an armada of wing players enables the Warriors to switch everything. Even Looney and Green can survive out on their own. Helpside is ready to collapse if they're beat.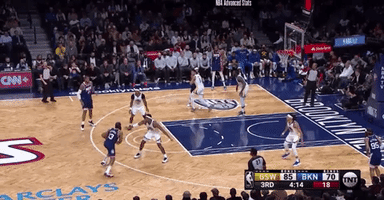 Wiggins is the best of the bunch. He has finally found his purpose on this team. No longer does the existential dread of being a Number 1 Overall pick or a max-contract player loom. For the Warriors, he has a role to play and that kind of philosophical definition provides clarity and leverages his skillset. There are few true wing defenders capable of managing the super-scorers of the league. Andrew Wiggins does as good a job as most.
Much of the advanced data is not in his favour; a consequence of guarding the best of the league. But his length, strength, and athleticism allow him to slow major scorers or at least funnel them into the Draynado.
Even when both Green and Wiggins are off the court, in 500 possessions, the Warriors are in the 97th percentile for points allowed per 100 possessions (99 pts). There's little space for teams to get buckets.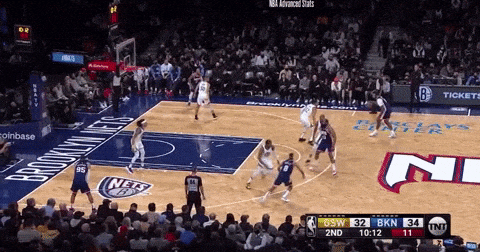 You can see in this all-wing possession how active and responsive they are. The switch at the top is masterful. Kuminga fights over one screen, sees Otto switch on the second screen but get beat, and switches back on Patty Mills who draws 3(!) defenders.  The major, but understandable, error in this possession is all three Warriors closing out on James Harden. De'Andre Bembry gets a free lane to the rim.
Nonetheless, the clip demonstrates how fluid and active the Warriors defence can be when it's clicking, even without Draymond at the core barking orders.
The Mitten
Then, of course, there is the Mitten. Gary Payton II leads the league in estimated defensive plus/minus and overall defensive RAPTOR. He also leads the league in deflections and in steals per 36 possessions. He's always been known as a top defender; his offence has prevented him from ever finding a true home in the NBA. No surprise that the best offensive team in the world could accommodate such a player.
Gary's all kinds of predator in one: he stalks victims like a nocturnal wildcat or tracks them like a bird of prey on the open plains. Watch this montage.
On-ball; off-ball. Guard; forward. It doesn't matter. Gary's instincts and intrepid arms – he's 6'2″ with a 6'8″ wingspan – means that no ballhandler or passer is safe from his endeavours.
This is perfect defence on Kevin Durant. Perfect.
The Warriors are primed, once again, for a deep playoff push. Their lack of a big may prove to haunt them yet. The West is deep with talented centres – Nikola Jokić, DeAndre Ayton (as we saw the other night), Anthony Davis, and Rudy Gobert come to mind. I wouldn't be surprised if, by the end of the season, Wiseman was logging enough minutes to give the Warriors a few semi-productive moments against bigger foes. The 3-point luck may also turn against them somewhere down the line. Opponents have just kinda been "unlucky" above the arc against the Warriors. That's certain to balance out.
Until then, the Warriors are making teams' lives miserable at both ends of the court.