This week of basketball has been exceptionally hard on the ol' ticker.
It started with a white-knuckling ending in the Women's March Madness Final. After Stanford failed to get a shot off running down the clock up one, the Arizona Wildcats got one more kick at the can. Their superstar point guard, Aari McDonald, fought her way to an inbounds pass, desperately dribbled around looking for an open shot, and, despite having three defenders all over her, very nearly hit a fadeaway three-pointer to win the game.
Next night, just after catching my breath, the Men's March Madness Semi-Final between UCLA and Gonzaga had an apartment-screaming finish. The Bruins' Jonny Juzang got his own rebound off a missed floater and laid the ball up to tie the game with three seconds left in overtime.
Not. So. Fast.
Gonzaga's Jalen Suggs quickly grabbed the inbound pass, sprinted just past centre court, and lofted a game-winning bankshot!
Then, on Monday – whew, I know, it's the best time of year for basketball, isn't it? – a wild [and ugly] Washington Wizards-Toronto Raptors game ended with newly-acquired Raptor, Gary Trent Jr., grabbing a rebound with six seconds left, zipping down court, "nudging" a flip-flap-flopping Raul Neto, and stabbing a three-point dagger for the win.
It's been a lot. Of heroics and tragedies alike.
So, it got me thinking.
Who else in the NBA has been clutch and – obviously, I could not resist – clutchless this season?
I get that clutch is a bit of a vague term. It can mean many things to many [smart] people. NBA.com has many variations, the widest of which, is any statistic recorded within five minutes left in the game when a team is up or down by five points or less, or tied.
That's a lot of room for error. We've all seen games where a five-point lead is less "tight" than numbers would suggest. Or a game is out of reach, but the data point counts as "clutch" anyway. There's some ways to avoid that, but nothing's perfect.
How to specifically define a clutch player is also hard. Can we just declare someone with a history of big shots clutch? Is it possible even though there's no threshold of data that enables us to forecast if, or when, a clutch player will hit a clutch shot?
Storytellers and audiences think so.
We all knew Kobe Bryant as a game-ending killer, but he actually has a much worse game-winning shooting percentage than many of his peers. "Big Shot Bob" Robert Horry has fewer buzzer-beaters (ties or wins) than Rudy Gay, but he gets the shiny nickname. Michael Jordan has nine game-winners or ties under his belt, no surprise there; bet you can't guess who has the second most?
Joe Johnson.
I am sure teams are scouring the globe's tomes of scientific journals in search of the alchemy that will either predict clutch players or, better yet, create them.
Determinants of a clutch [or non-clutch – I don't like the term "Choker"] player remain as much a mystery as the caramel in a Caramilk paradox. There are likely some common biological and psychological traits. Characteristics like experience, concentration, low heart rates, confidence, even arrogance, etc. are probably helpful but not necessarily determinative. I, mean, I basically just described the Black Mamba.
Maybe it's not predictive at all. Maybe every performance is a single, unconnected moment in time. Or pure luck. Or total outliers. Or a karmic-Basketball-Gods-intervention rectifying Referee errors, affirming that the ball does indeed never lie, or punishing franchises for years of mismanagement. Who knows.
What we do know is what's happened after the fact. For now, extractions from historical data is all we got. So that's what we'll use, when looking at this season's Clutch Lords and Clutchless.
*All statistics are prior to Wednesday night's games
The Guys You Do and Don't Want to Get You Back in the Game
Situation
Score: Down Five Points or Less, or Tied
Time: One Minute Left
The Guy You Want
More often than not it's the lesser team that finds itself tied or behind late. And, as the chart below shows, it's more often than not that they lose: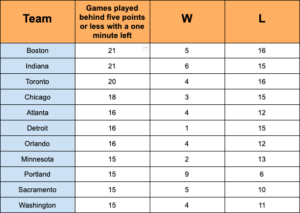 Except for one feisty anomaly: the Portland Trailblazers. The only team with a winning record – a 60% win percentage, the next closest is 33%.
And it's all in thanks to Mr. "Put Some Respect on My Name" Damian Lillard. Here comes the mad respect.
No one scores at the rate and at the accuracy he does for that many games.
In those winding seconds of the final minute, Dame averages a league-leading 2.6 points on 69% shooting in fifteen games. The next best is Shea Gilgeous-Alexander at 1.9 points in six games…at 22%. Ick.
Joel Embiid, Timothé Luwawu-Cabarrot, and Immanuel Quickley have better field goal percentages but have scored a total of twelve, eight, and seven points respectively.
Dame: thirty-nine points. Jason Tatum is second with twenty-five total points and has lost twice the number of games. Twenty other teams have scored less than Dame.
Portland is first in total points (65). Do a little tickity-tack on the old calculator and, voilà, Dame scores 60% of his team's points when they are behind or tied in that final minute.
He's utterly unstoppable when everyone's heart is in their throat. At every level. He's 5/9 threes and perfect at the free-throw line.
Watch this sequence in Portland.
First, it's a blowby past a desperately grabbing, Lauri Markkanen – it's a foul – then a difficult cross-body finish through Zach Lavine – no call. Forty seconds later, down five. Dame hits a one-dribble 9,439-foot pull-up to get them within two. Six seconds left, off a scramble-of-a-jump-ball, Robert Covington hands the ball off to Dame, who effortlessly strikes a step-back, fadeaway three to devastate the Chicago Bulls. I mean, devasssstate.
Dame's becoming a repeat offender. He's in a class of his own right now. To the point that we're nearing weather-person accuracy in predicting his clutch buckets.
The Guy You Don't Want
Speaking of the Chicago Bulls.
Guess who's kinda the antithesis of Dame D.O.L.L.A.?
Zach "Pennies" Lavine.
He's played like an All-Star this year – deservedly so. Just not at the end of games.
Chicago has taken thirty-six shots with a minute left down five or tied. Lavine is responsible for twenty-one of them and hit…gulp…only five. To be fair, he's 12/12 on free throws. But having your best player shoot 24% when you're down tight in a game is a faster "No Thanks" than picking up the phone and hanging up on a droning telemarketer's voice.
According to inpredictable.com, Lavine has taken the most Clutch2 shots (shots crucial to a game outcome – as opposed to "garbage", "normal", or "clutch" shots) in the league (19) and is shooting a not-so-winning 34% effective field-goal percentage.
Only DeMar DeRozan and Devin Booker, who have taken six and seven less Clutch2 shots respectively, have a worse eFG%. Nikola Jokić with sixteen Clutch2 attempts has a 50% eFG percentage.
This all begs a larger metaphysical question about "Clutch" similar to the conversation about Most Valuable Player. It's difficult to navigate the responsibility of a go-to-guy. Is this Zach's fault because success and failure falls on him and him alone. That's certainly how fans and franchises have deemed it regardless of the logic. You either can or cannot. Cannot? Next, please.
Or is this the team's fault for not having go-to-guy alternatives?
DeMar kinda has some dudes. Devin has Chris Paul; Nikola has Jamal Murray. Zach – prior to Nikola Vučević – had…Thad Young? It's much easier to set up a defence in those dying minutes when you know, without a doubt, that the ball's going to Zach.
Should you have a Klay Thompson sitting in the corner or an Anthony Davis rolling off a sharp pick and roll, then it's more about mental focus than it is scrambling to even find an open shot. You can see what happens when defenders do not give a care about anyone but Zach – that's three Oklahoma City Thunder defenders in his personal bubble.
On the other hand, being clutch does involve, at least, making the right decision and finishing under duress. In the first clip, Zach just pulls without any real execution – not that any of the other Bulls are doing anything. With forty seconds left, you need a better attempt than that. In the second clip, again, he has to find a better look than a pull-up with a defender in his grill. Third clip, that's just:
gotta finish, man. 
The debate remains undecided. Dame doesn't help Zach's case. He has had little help this year (CJ McCollum has been injured for a large part of it). And everyone and their pet Chinchillas know Dame's getting the ball. That has NOT hindered him in the slightest. But maybe Dame is an unfair comparison: he being an unguardable Cartoon Robot and all.
Look, I am not judging Zach, he shoulders a major offensive load. But if you want to be deemed "Clutch". Then the critical eye is going to be sharp.
Either way, if there's a minute left and your team is behind in 2021:
Dame is the G.O.A.T. and Zach is a Goat.
The Best and Worst Team To Have a Slim Lead
Best Team
Situation
Score: Ahead by Three Points or Less, or Tied
Time: Five Minutes Left
Portland – see aforementioned Cartoon Robot – has no qualms being in the thick of it.
When barely leading towards the end of the game, they are just a modest 18-2(!).
For the majority of the forty-eight minutes in a game, the Trail Blazers shoot a 19th-best 54% effective field goal percentage. Come those last five minutes, when tied or leading, it ramps up to a second-best 65%.
Shoutout to the Charlotte Hornets who have a 16-2 record and a 68% eFG in the clutch.
Still, word to the wise, don't EVER leave it close to Dame and Co.
Worst Team
Situation


Score: Ahead by Three Points or Less, or Tied
Time: One Minute Left
Nothing says "Pretender" more than a team that blows leads late. Real late.
For crud teams, it's less of a surprise. They probably had no right winning in the first place. If you lack the star power or depth, you're bound to burn out eventually. But for a team with Playoffs aspirations, there's no room for such squandering.
For the Miami Heat, who have lost seven of fifteen games where they had a lead or were tied with a minute left, it's a major cause for concern.
True, it can be looked at in one of two ways.
It's a good thing: a couple more of those go their way, they're closer to third than seventh in the standings. It's a bad thing: if they aren't closing out tight games now, good friggin' luck come Playoffs.
Thus far, though, with a minute left in the game, the well goes completely dry. They have a league-worst net rating of -39.5, thanks to their parched 56.5 offensive rating, which is six points worse than the second-worst, Cleveland's, rating of 64.
Only the Great Jimmy Butler has scored more than two points (9) when it counts. No surprise there. He's a fourth-quarter behemoth. Toronto Raptors fans know this all too well when he once painted a cool nineteen in the fourth quarter. The remainder of the Heat boys – Bam Adebayo, Tyler Herro, Duncan Robinson, Andre Iguodala, and Goran Dragic – have a total of two points scored amongst them.
It's not just a closing-out-the-opponent thing either. In games where the Heat are tied or behind by three points with a minute left, they're 1-11 (vomit emoji). Malperformance in the clutch is a prominent trend for them. Yes, some other good teams like the Phoenix Suns and New York Knicks have similar red-flag, come-from-behind numbers, but they're much better than the Heat closing out tight leads.
Hopefully, healthy and with a reinvigorated Victor Oladipo, Erik Spoelstra and the gang can improve down the stretch. Until then, it's a lot of nail-biting for Heat fans.
The Best and Worst Guy to Have at the Charity Stripe
Situation


Score: Behind or Ahead by Five Points or Less, or Tied
Time: One Minute Left
Best Guy(s)
The Dame Lillard Show is starting to get pretttty, prettttyyy, pretttyyy repetitive.
He won't steal the whole show, I promise. But seriously, DAME, SERIOUSLY, He's 33/33 at the line. Seriously.
Besides him. Shea Gilgeous-Alexander and DeMar DeRozan are your boys. For slightly different reasons.
SGA is your Finish Him! Free Throw Shooter. When the actual game is on the line.
He's only a ho-hum 24/29 in the last minute of a game up or down five points. But, he's secured a league-best 10/10 in Clutch2 Free Throws. Don't ask him to shoot just Clutch Free Throws (shots that only have an elevated impact on win probability), though, he's only nailed 6/9 on those.
DeMar is more of your just Clutch variety. He's 21/25, not the league leader, but that combined with his Clutch2 shooting, where he's a yawn 8/12, DeMar's hitting a whole lot of game-deciders at the free points marker.
Worst Guy
Giannis Antetokounmpo is too easy to pick on. He's the perfect storm of bad Clutch Free Throw percentages. He's constantly attacking the rim. He's endlessly getting fouled. And he shoots 69% on nine attempts a game.
When the game really counts. Giannis has hit 50% of his twenty-two Clutch attempts (and 3/4 on Clutch2 shots). Only Mason Plumlee comes near that ungodly number. Unforgivable stuff for a superstar.
Being not good enough is also not an answer for poor clutch free-throw shooting. Some guys even have it when they don't normally. Zion Williamson, for example, shoots 71% on nine attempts during the season. But he's shot 80% on thirty Clutch Free Throws and 86% on seven Clutch2 Free Throws.
Maybe Giannis needs to start getting his whole extended family running in the offseason to get that Free Throw shooting up a few ticks.
The Guard You Do and Don't Want Making a Decision When it Counts
The Guard You Want
Situation


Score: Behind Two Points or Less, or Tied
Time: Ten Seconds
Yes, I know, you'd think Dame. Yeesh, I should have just written a Clutch Dame article instead.
But it ain't.
No, the title, this year at least, is, without competition, Jayson Tatum.
With ten seconds left in the game, down two or less, Tatum is 4/5 with nine points and zero turnovers. He's also played in three total minutes of this scenario this season. Which is a lot of nervous-nelly, ten-second moments. Other dudes who have played that amount of clutch time have only scored two points.
Tatum also only has the ball in his hands 33% of the time; he's deathly efficient when they give him the rock. Guys like DeRozan, Lavine, and Dame have the ball more than 50% of the time.
Despite Tatum's clutch performances, Boston still has a losing record (4-7). You gotta wonder, if they doubled Tatum's usage, what their record would be. Someone(s) for the Celtics has the ball a little [lot] more than they should as the fateful seconds tick away.
The Guard You Don't Want
Situation


Score: Behind Two points or Less, or Tied
Time: Thirty Seconds
There are a couple of guys who have not proven themselves trustworthy in the final moments.
We discussed Zach Lavine's issues already. Bradley Beal is 0/6 from the field with one point, which is totally miserable, but he does have two assists and no turnovers. Devin Booker's not much better, shooting 1/7, but again, he's held on to the ball and scored five points (both he and Beal are perfect at the Free Throw line).
No, it's Ben Simmons who's a total liability towards the finality of a game. He has three turnovers in three minutes along with a whopping zero assists and zero points. Fair, he's taken only one shot and no free throws. But, look, these scenarios are best reserved for guards. Elite ones.
If you want to be a legitimate All-Star guard in the NBA, these are the moments you have to excel.
It's a reality of the situation. High-pressure moments involve stifling defences that spoil designed plays and crowd normally-open passing lanes. Finding your best post-player or spot-up shooter is very hard in these events. Inevitably, the guard is stuck – for better or worse – with the ball.
It's one thing to be a neutral factor. We all know Ben's shooting incapability. He does so many other good things it's, kinda, forgivable. But to have three turnovers is ABSOLUTELY inexcusable.
I appreciate there's a lot of responsibility as the primary ball-handler, and – as you will see – inbound passer. It involves a higher degree of risk and a lower margin of error. But he's not done much else to compensate for these throwaways.
The first pocket-pick is technically not one of his three turnovers, but it's an example of his carelessness late. Rejecting a double-screen designed play and then losing the ball to an Alec Burks ain't good. The next three are errant passes – one forgivable because of the urgency and Robert Covington's seventh defensive sense. But, again, you an elite playmaker? Not with plays like these.
Maybe Doc Rivers is better off bringing in [Milk] Shake Milton who can at least spread the floor. He's played two minutes of action with no turnovers.
Philli, with ultimate Championship aspirations, not having a dependable ball-handler come crunch time is troubling.
It also leaves me thinking (A) maybe they're better off airmailing it full court for Joel Embiid Randy-Moss-styles in the post (I'm joking) and (B) maybe making that James Harden trade wouldn't have been such a bad idea after all.