What makes a Renaissance?
Does one possess some knowledge of what the future beholds or is one simply at the right place at the right time?  
Did being a computer genius mean Bill Gates was going to become a Billionaire or did a rise in cheap computer technology and the public penchant for personal computers make being a genius at that moment extremely lucrative? 
Hard to say. Chicken or egg. Probably, a bit of column A, a bit of column B. 
Same with basketball. Counterfactuals can be pointless, but, man, some players came out of the womb at the worst possible moment. 
Reggie Miller in 2020 is like if Duncan Robinson and Norman Powell had had a baby in 1997. Scoring forwards like Grant Hill, Scottie Pippen, and Glen Rice would have gotten paiddddd had they suited up in the "positionless basketball" era. 
James Jones, on the other hand, perfect timing. 
So, for a guy who is on year fourteen of his NBA career, you have to ask yourself, why now?
Why is Thaddeus Young suddenly Mr. [Elegant-Playmaking] Fantastic at the ripe age – for NBA years – of thirty-two?
Was he never properly utilized or has the current NBA epoch empowered a style of play more akin to his skill-set? 
Whatever it is. It's working.
I talked about passing bigs the other week. Looks like Chicago Bulls Head Coach, Billy Donovan, has taken a page out of the Denver Nuggets and Indiana Pacers' playbooks. 
Thaddeus Young has become the Bulls' playmaking big bringing a much-needed dynamism and structure to their offence.
His long arms, wide frame, and quick-first step have always given him the ability to operate in the paint and on the perimeter, in tight spaces or open court. Now, he's using those skills to join the new era of centrifugal bigs. 
In some ways, Thad is [was] old school. A classic power forward who could shoot from the outside when left alone, but much more comfortable, and effective, attacking in and around the paint. He has extraordinary footwork and finish in the post uniquely looping under and around dudes with his ridiculously-long [and large] arms. He will also happily pull slower-footed defenders out to face up and burn. He rebounds relentlessly and attacks violently – an orchestra of sharp elbows and baritone shoulders emulating the power forwards of the 1990s. 
In other ways, he is a predecessor to the transition of positionless basketball. Thad is athletic, strong, quick, and explosive. He can guard one through five in a pinch. He can play most-anywhere on the court and accompany any style of scorer. 
He's a symbol of the latest NBA evolution (yes, I know I talk about this a lot): a remnant of the old guard finding – successfully – their place in the Modern NBA. What's held him back from a complete transformation is his inability to shoot the three (33% on 1.5 shots attempts for his career) and irregularity at the free-throw line (two career attempts a game). 
Take a look at Thad's shot charts from his last two years. 
2018-19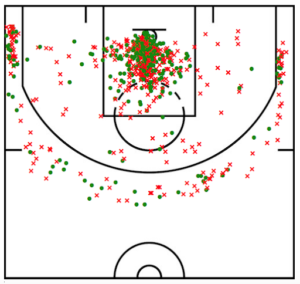 2019-20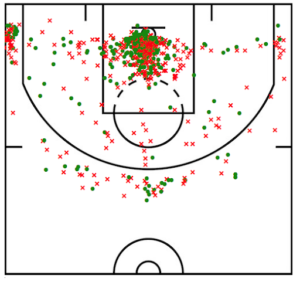 In case you can't count all those little x's and green spots – and, yes, they look identical – in both 2017 and 2018, 66% of Thad's hoops were ten feet or less from the rim. Last year, that number dropped to 60%. 
That's Thad for you, paint or die – a smattering of jumpers for good show. You give him the ball he attacked. Next play.  
Until this year. 
Offensively – his defence has admittedly slipped – Thad is playing the best, most efficient basketball of his entire career. 
He is averaging two assists per game more than any other year and shooting the highest percentage of his career all while playing twenty-five minutes a game – the second lowest since his rookie year. 
Analytics demonstrate similar success. He has the highest ESPN player efficiency rating, box plus/minus, true shooting percentage, effective field goal percentage, and NBA offensive rating of his career (as of Tuesday night).
Many wondered why the nascent Chicago Bulls signed Thad to a three-year, $46 million contract two years ago. They were a bottom-feeding team full of prospects navigating their way through the dog days of team building. Thad was a twelve-year veteran whose style of play seemed to be diverging from the new NBA. Maybe he was added for his leadership, but it was an awful lot of cash for locker room presence. Or maybe it was an overzealous signing by an imminently moribund management.
Regardless, in his first year with Chicago, Thad tried things a bit differently. He tested the waters behind the three-point line and took fewer jump shots – a growing trend across the NBA. Only fifty-five percent of his points were in the paint (versus seventy-four the year prior). But still, Thad played like Thad from Indiana and Brooklyn.  A do-it-all, swiss-army-knife grinder rolling off harsh screens, backing down and pounding less-than-stoked participants, and hustling for scraps in the paint. 
This year he's back to a lot of the Old Thad: taking fewer threes and bulldozing and bullying his way to eighty-eight percent of his points in the paint. But his involvement in Chicago's system has changed. He's no longer the guy that scrapes together buckets like the kid at school who asks if they can finger-wipe the remaining frosting from the Dunkaroos package (I may or may not have been that kid). 
He's doing a lot more of the cookie-dipping. And doing it with an added dimension. Chicago is running actions through Thad at the top of the key and above the three. He's averaging 6.5 elbow touches a game – five more than last year and four more than the previous two years. He's not only attacking, he's passing out of the elbow on sixty percent of his touches so far.
Thad's become a playmaker: running dribble-hand-offs with their loping guards and zinging cross-court passes to awaiting shooters. 
Here's Old Thad:
It's iso-ball: pull-ups and smashdowns.  
Here's New Thad in the same spot:  Zach Lavine comes up off a pin-down, Thad dribble-hand-offs to Lavine and rolls to the high post to get the pass. Pause there. Old Thad's going full head down or ass-out smashing his way towards the rim. New Thad, it's an immediate corner pass to a wide-open Lauri Markkanen BANG!
Another Old Thad x2. In both, he's got the ball at the top of the key, four Nets waiting (not moving, which I despise) for Thad to do his thing – I know that he knows that they know what he's going to do. Note the open snipers, first Joe Johnson, then, Wayne Ellington, at the bottom of your screen. 
New Thad: This is Draymond Green carbon-copy. Thad's at the exact same spot as the previous clips. Both Bulls guards are at the 45. Thad's given the ball and instantaneously rifles a chest pass to Markkanen exactly where Ellington is in the previous video. Markkanen gets stuck and goes right back to Thad the Hub who proceeds to another dribble-hand-off. The following play is a basic Dray-to-Curry style exchange revealing Thad's newfound patience – and adeptness – to pass.
It's a wonder it took so long to convert Thad into a Be-Like-Dray. There are many more out there – Aaron Gordon, Marvin Bagley III, Brandon Clarke, Larry Nance to name a few – perhaps waiting to undergo a similar transfiguration. 
Dray's coming-of-age story is different than Thad's. Scouts feared his tweener status; he lacked the athleticism of someone like Thad. 
With Golden State, Dray learned to be a mobile "big" using his unworldly basketball intelligence, savvy passing, disruptive intensity, and decent shot to revolutionize the tweener position. He showed, at least for stretches of a game, that teams did not always need traditional big men. Nor did they need a guard to run their offence. 
Thad has always possessed qualities similar to Dray –  but for the passing. The difference is he began in an era where the only way a tweener could cut it was by being the gritty, relentless, workhorse. Which he did effectively albeit never on an elite team (he's only ever been to the second round). In this era, that type of player – especially one who can't shoot – barely exists. Look around, few if any are left. Even Bobby Portis has a three-pointer now.
That's what makes Thad's evolution so beautiful to watch.  He's gone from complementary to intermedial. Look at the change in his passing numbers from the last four years. He is passing and assisting much more. 

Again, major ups to Billy Donavan. Unveiling Thad's passing prowess is paying major dividends for the Bulls. With him on the court, the Bulls score thirteen more points, score eight more points on assists, and have four more assists per 100 possessions (as of Tuesday). 
The roster's makeup demands someone share the passing load. The Baby Bulls are growing and learning what it takes to be consequential NBA players. Zach Lavine is transforming into a bonafide All-Star (recently named a reserve) and a legitimate creator, but the guy's a scorer first through and through. Colby White, the Bulls' point guard – in so much as he is one – is figuring out the distribution part of his game, particularly in the half-court. He was a scorer in college and is learning how to be more than just up-and-down in his second year in the league. Markkanen shoots first, asks questions later.  Wendell Carter Jr. has been too busy fending off injuries to hone his tools – though, I suspect Thad is serving as a perfect example for his trajectory. And Patrick Williams is raw. 
Leaving one, Thaddeus Young. Monsieur Renaissance.
The NBA never gets old. Teams of data scientists are parsing apart the kind of algorithm-engendered data that feels like only Billy G could comprehend. Coaches are nightly burning the midnight oil concocting new schemes and approaches. But most impressive are the players adapting to the ever-changing NBA landscape. The players who realize that what got them there isn't going to cut it anymore or that what a team needs is different than what they individually excel at. 
Was Thad a passing wiz all along? Did he just need the right Guru to coax it out of him? Or did he need thirteen years of experience and the right NBA environment for it to blossom?
We'll likely never know. Probably a little of column A and a little of column B. 
All the same, he's willingly evolved into a different player before our very eyes and that is something to marvel at.