On Sunday, against the Portland Trailblazers (who, as an aside, I think might be the closest thing to a Golden State rival), Steph Curry scored a scintillating 62 points.
It's a big deal for two reasons.
One, apparently, the media was saying that critics in the Twitterverse were already dismissing Curry's talents and claiming him washed. Especially, after Portland whooped them by 25 two days earlier and Curry was a -27.
I dunno that any of that matters. But if these Straw Critics exist – if no one outside of Twitter hears it, did it even really happen? – they are dead wrong.
Two, Steph is now one of 29 players in NBA history to score 60 or more points. The feat has only happened 77 times ever – if you remove Wilt Chamberlain from the total that number shrinks to 44. It's rarer than rare.
Edit: I had to update the numbers literally hours before publishing thanks to Bradley Beal putting up 60 in a loss to the Philadelphia 76ers last night.
To honour Curry's "redemption" and historic accomplishment, I thought to break down his 62 points and extract some principles for us normal humans to incorporate into our own game.
Now, before we start, understand that Steph had the ball in his hands a lot more than I would advocate for non-nuclear reactive players. He had a usage rate of 50% similar to peers – like Dame Lillard, Kemba Walker, and James Harden – who also hit the 60+ mark. 
But, who are we kidding, he is Steph Curry after all, and unless you're, like, Klay Thompson (who took 11 dribbles for 60 points in 29 minutes), you're going to need the ball a lot to score 62. 
Here's a look at his shot chart: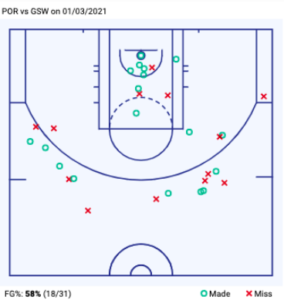 1. Free Throws are Free Points and Free (Up) Plays
Statistic: 18/19 Free Throws. 
Free Throws are freebies. You have to make them. But free throws also impact how defenders guard you. We all know the extreme example of Hack-a-Shaq. Teams would rather he play clank free-throws than swallow fellow 7-footers whole. The same thing is starting to happen to Giannis Antetokounmpo.
But the inverse is true with Steph. Defenders are a fraction less aggressive or reach less knowing that a shooting foul is more automatic than a quasi-contested field goal. On microwave days like Sunday, this gives Steph the millisecond or two he needs to get his step-back or crossover pull-up off. 
In other words, becoming a good free-throw shooter helps you become a better overall scorer. 
      2. All You Can Do is Be Amazed
Statistic: Five three-pointers scored off-the-dribble. 
This is quintessential Steph Curry basketball. Dizzying handles and long-range precision shooting is what makes him the historic superstar we all love. We can only aspire to have such capabilities. These clips are less to emulate and more to gawk at in exaltation. 
This one is sweet because the action first starts with an off-ball down screen. Curry curls, Dame switches on to Curry. Curry goes to worrrrrk.

Another "whatcha-gonna-do"?

      3. Getting to the Rim
Statistic: Seven drives and scores in the paint (his eighth paint score was a put-back).
Curry is small. 6 foot 3 inches and 185 pounds. Yet, he scores as much in the paint (8 in this game) as outside it (8). Players have to guard the shot – you saw why in the previous two clips. Then they have to figure out where he's going with his wicked recipe of pump fakes, jabs, crossovers, behind-the-backs, and hesitations, which you also witnessed. And once they do, he is gone. 
Here's an example. Steph gets a super high ball screen forcing the infamously-slow-footed Enes Kanter to switch on him. Kanter knows Curry can get by him in a wink so he stays back. You could fit the Mediterranean Sea between that kind of leeway. You'd think Curry is for sure pulling-up. Instead, he hesitates, then blasts by the Turkish Tortoise.

Lay-ups are high-percentage shots; attacking the basket gets you to the free-throw line and players fouled out. The correlation between high free throw attempts and dominant scoring is high. 
Top five free throw takers last year? James Harden, Trae Young, Giannis Antetokounmpo, Luka Doncic, and Jimmy Butler who were also first, fourth, fifth, sixth, and 29th (Jimmy and the Miami Heat are a different breed) respectively in scoring last year.
What to take from this is to not always depend on the shot. If you are open, shoot it, but remember that if you see an opportunity to attack instead, take it. Even the greatest shooter of all time doesn't settle. Except for that one pretty important time he did, and it cost him. 
      4. Trusting Analytics
Statistic: Two pull-up jumpers inside the three-point line.
These days, in the era of space and pace and analytics, the name of the game is three-pointers and layups. 
Yes, the best shot in basketball is the open one. But threes count for 50% more points than twos and layups are gimmes. The two-point jumper just can't contend (generally speaking). 
Curry attempted 16 threes and 15 twos. Of those 15, he only took 4 outside of the key.
So, ya, analytics.
      5. The Magic of Off-Ball
Statistic: Four off-ball three-pointers; one backdoor lay-up.
Steph is best known for his pass-and-relocate endeavours. He is like Nightcrawler, passing the ball one second, receiving it somewhere else the next. 
Perfect example here. Curry passes to James Wiseman then runs directly to him in a sort of hand-off, leading Derrick Jones Jr. into a 7-foot wall of flesh, and pulling up for a three.

You can be as much a weapon (and scorer) without the ball as you can with it. Something we discussed at length a couple of weeks back. If you have trouble breaking your defender down through the dribble, use smart cutting and the fact that there are nine other pylons on the floor to get yourself open. 
Best thing you can do to help your teammates out is pass and move. Then move again. Screen or cut. Then again and again. Keeping yourself moving is keeping your defender moving. Eventually – if you're in better shape – they'll gas, or, they'll be occupied while your teammates attack. It's a win-win-win
In this broken play, the Draymond Green/Wiseman exchange goes awry. Curry seeing the disarray, steps toward Dray and then goes backdoor for a nice pass and a sweet tear-drop!  I do admit, it helps that Robert Covington plays pretty poor defence falling for this non-pass fake (is that a paradox?). But still, it's a classic Dray-Curry hook-up.

Washed or not (NOT!) watching Steph Curry score in so many creative, sultry ways prompts pure basketball exuberance.
His scoring craft is also a golden standard that we can all look (or at least try…) to achieve with our games.