Full disclosure. I am a bit of a hardcore Toronto Raptors fan.
Just a wee bit.
I write and podcast for the fanatical Raptor fan website, Raptors Republic. I watch every game. I scour scouting reports on undrafted rookie signings. I screeched like a dying witch as Kawhi's game-winner bounced about the rim like a slinky going down the stairs against Philly. And, I considered therapy to cope with Kyle Lowry's departure this summer.
So, yes, I am bias.
But zoom out a bit, and there's something really cooking here with the 2021-22 Toronto Raptors.
I know there's only been one preseason game so far. ONE GAME. Preseason. A single game in the preseason. That's it.
So, if you wanna @me for small sample size. Fair enough. But bear with me.
Against Philadelphia on Tuesday, Toronto rolled out its anticipated starting lineup: Fred VanVleet, Goran Dragić, OG Anunoby, Scottie Barnes, and Precious Achiuwa.
They looked Ho-Hum. The same woes – defence in the post and offence in the half-court – of last year were immediately apparent. There were some encouraging moments, but my immense – unreasonable – anticipation for this game was quickly reset to modest expectations.
That was until the young cast of backups emerged.
There's been a lot of chatter this summer about the new-look Toronto Raptors. With Kyle Lowry gone, and no one but Dragić over the age of 30, the Raptors have entered a new era.
Unlike last year, where Masai Ujiri tried to patch together the roster with a number of modest free agent signings to give the team one last hurrah, this year he's going full schemer.
It's no secret what NBA player prototype Masai counts in his head at night falling asleep. If you track his career in player personnel, he's a long-lasting obsession with length and positional fluidity.
Indeed, his infatuation was prescient. Nowadays, the best teams have rosters with interchangeability on the defensive end and offensive variability at the other. One-dimensional or traditionally-positioned players have a harder time sticking in the league. The NBA's evolving to a place where everyone needs to do a bit of everything.
In coming to Toronto – it was happening in Denver too, but that's for another story – we observed Masai manage this evolution of style adeptly. He integrated what he inherited – Kyle Lowry, DeMar DeRozan, Jonas Valančiūnas, Andrea Bargnani, and Rudy Gay – with what he foresaw for the future. As soon as he arrived he went to work drafting Bruno Cabocolo, Pascal Siakam, Delon Wright, OG Anunoby, signing DeMarre Carroll, and trading for Serge Ibaka and Kawhi Leonard. Some were whiffs, some made championships.
You can see the sharp contrast: the incumbents were more "traditional" players (except for the Italian sloth); the guys he acquired were long and/or big for their positions. Masai's mastery came from balancing the pragmatism of his roster's strengths with the his own ideological convictions.
Now, with a 'ship under his belt and a brand-spanking new (and premium) contract, Masai's been granted permission to go full dynasty redraft.
Take a look at this summer's new additions: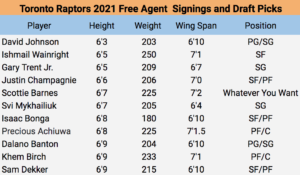 Clones.
Just having a bunch of long athletic dudes on your team is not the extent of the strategy, though. In fact, having Nick Nurse as the Igor to Masai's Dr. Frankenstein is as integral as the roster itself.
Nurse's schemes, especially defensively, are non-traditional and experimental. Their scramble defence, for example, relies on his players' intellect and athleticism to force teams into bad decisions or, at worst, rushed, quasi-open perimeter shots – ideally from the least accurate shooter on the floor.
Toronto had more difficulty executing it last year as a result of losing Marc and Serge and lack of depth. Guys like Yuta Watanabe and Stanley Johnson struggled with the system, initially; Norman Powell (size) and Aron Baynes (footspeed) lacked the tools to execute it to its ultimate.
Now…
With an army of long athletes at their disposal, Masai and Nurse can finally enact their plan to its fullest: a chaotic, frantic, swarming, fast-paced posse.
Starting the second quarter were rookies Dalano Banton, Justin Champagnie, and Scottie, alongside Svi Mykhaliuk and Yuta. The score was 30-25 Toronto. By the time OG and FVV subbed back in, it had ballooned to 55-35. The boys conjured a 25-10 whirlwind.
And, boyyyy, was it fun to watch.
It was Turnover → Fast Break over and over again.
Even on non-turnover transitions, they outran Philly. Watch Dalano grab the defensive board and launch like a starter gun popped off and then Champagnie do the same with an instant outlet.
All the coaches wanted from the new guys was to grind on defence and run on offence, and with their length and athleticism that's exactly what they're equipped to do.
There are a myriad of ways to win in the NBA. Run-and-gun-type basketball has not really proven to be a sustainable course of success to date. But few teams have ever actually bought entirely in to the style at both ends of the court.
The Steve Nash Phoenix Suns game close, but they lacked the depth and the defensive versatility – Nash and Amar'e Stoudemire were big-time liabilities. They ran the Seven Seconds or Less offence disregarding defence altogether. Don Nelson tried in Dallas and Golden State, but traditionalists in both organizations, and the eras themselves, kept his teams from flourishing.
Now, the league environment is more hospitable – if not encouraging – to Masai's brainchild. The positional lines defining 1 through 5 blur on almost every roster. Everywhere we look, there are examples of unique body types and diverse skillsets in unusual positions – take 5 minutes to watch Bol Bol or Bruce Brown Jr. highlights. The NBA's emphasis on scoring, pace, and shooting makes not having a traditional centre all the more plausible. In fact, a roster like Toronto's was basically inevitable. It just took the aligned will of ownership, management, coaching, and the players.
Voilà, Toronto.
With the shedding of the old guard, there was no better time for Masai to convince ownership and its personnel of the novel approach. It also helps that this new core earned its chops through the very same notion of high-intensity defence and fast-paced offence.
Pascal, FVV, OG, and Chris Boucher were the original Bench Mob. The precursor to Masai's end goal and who exemplify, to the younger players, how overwhelming an opponent with effort and doggedness can lead to success and a pay check.
The real thrill and purity of innovation will come from the bench, to start, at least. Fifteen to twenty minutes of unadulterated bedlam and a thicket of arms and legs: deflections, interceptions, hard close-outs, traps, quick outlets, alley-oops, trailing threes, and whatever else one can imagine in such a hectic environment. Opposing teams utterly overwhelmed by size, athleticism and determination.
With a healthy roster, Toronto will have the luxury of plugging in some combination of Scottie Barnes, Chris Boucher, Yuta Watanabe, Goran Dragić, Precious Achuiwa, Malachi Flynn, and Dalano Banton. From what we saw from above, a Barnes, Yuta, Precious, Boucher, Banton group of five would be the ultimate meddlesome lineup. With them, this is how an attacking guard sees the paint:
Goran or Malachi could plug in there for some much needed leadership on offence.
It's possible we'll look back at this as a failed experiment. Drafting Scottie Barnes, in some ways, covers both bases: he is the perfect player to fit in this system and he may also become a transformative player in his own right regardless of the style of play Toronto employs. But until proven otherwise, the 2021-2022 Toronto Raptors are on their way to trying something entirely new.
Just the way Masai's always imagined it.