1. Ghost Steals
Freddy is pesky, pesky, pesky.

He's pitiless on-ball and precise off it. Just watch him strip Giannis:
Perfect. And clutch.
This season Freddy's 5th in total steals and 2nd in total deflections.
That's only what the physical realm accounts for though. Over the last few games, I've noticed a number of phantasmic events caused by Freddy. Where Freddy's mere, often oppressive, on-ball presence causes a player to turn the ball over without touching the ball.
Cutely, referred to, by me, as Ghost Steals.
To the best of my knowledge, no data application tracks Ghost Steals. Cleaning the Glass accounts for turnover percentage (the number of times a team turns the ball over while a player is on the floor), but it's not attributed to a specific player.
There is a bit of subjectivity here and a philosophical perspective too. Freddy's defence is not the only one causing a ballhandler's brain to fritz or misjudge or misthrow or whatever. That's the team's defence as a whole. Statisticians, technically, can't determine responsibility – even though they pick and choose stats all the time.
Well, I did it on their behalf and rewatched all the opposing team turnovers in Toronto's last 6 games – Dallas, Miami, Milwaukee, Detroit, Phoenix, and New Orleans. I found 7 instances where Freddy is the overwhelming reason why a turnover occurred (that Cade one is likely a deflection, but still). That's an extra 1.2 steals per game. I'll even admit, as you'll see below, a few are a tad iffy, but I gave Freddy the benefit of the doubt.
Why's the stat so important?
Well, for one, it highlights, again, how fearsome a defender Fred is. Something, the schmucks over at NBA.com obviously don't appreciate when they're making their stupid NBA Defensive Player Ladders (sounds like a wrestling event) and looking blindly at only non-ethereal data:
Two, for as much as we gush about length and strength, Freddy's immense pressure on the ball-handler is the first, and most important, line of defence. He hastens shot clocks, disrupts plays, and, most importantly, gives our fleet of safeties waiting in the wings the opportunity to intercept a pass.
Without that pressure, teams can comfortably settle into their sets and find the exploit they seek. Miami did something similar to Freddy with Gabe Vincent and Caleb Martin to get him outta sorts: disrupt and detain.
     2. The Wholesomeness of Scottie Barnes
I'm a softie, what can I say.
I love the beautiful contrast of violence and gentleness in sports. Steven Adams is the quintessential representative of such binary nobility.
Look at the love he shows his injured bestie:
Then look at him literally deconstruct growing tensions the other night:
Scottie's not same-level Steven: not in size, strength, or docility. For all Steven's ire, he's always calm. Scottie's emotional. A diametrically opposing joyful child and ferocious competitor.
We've all seen him roar and fist-pump. It's rare to get that sort of unrestrained expression on the court – it's also why I will always love Russell Westbrook. In fact, the two share similar traits the more I think about it.
How Westbrookian is this stampede to the rim:
Some would slow. Perhaps, a more cautious [wiser] player would try and outwit a retreating defender catching up. Surely, Scottie can feel the presence of multiple Heat pursuers. Doesn't faze him, Scottie rises in the face of imminent danger.
And-One.
Referees go to review the play for a Flagrant 1. I'm sure you can tell by Nurse's reaction what the decision was:
The play begs a discussion around the principle of fairness.
I, for one, don't think this constitutes anything more than a common foul. Slow the play down and you see hands and nudges and the like, but that's no different than any other play but for the fact that the momentum and velocity of this play is 99th percentile.
The problem, however, is that much less violent plays have received flagrants.
The NBA defines a Flagrant Foul as:
Flagrant Foul Penalty 1: Unnecessary contact committed by a player against an opponent
Flagrant Foul Penalty 2: Unnecessary and excessive contact committed by a player against an opponent
Was the attempt unnecessary? Well, yes, in the sense that nothing good was coming from it. The intent was to block the ball. The chances of getting a block were nil; the chances of harming Scottie high. That doesn't matter when it comes to Flagrant 1 definitions, but that hasn't stopped Refs doing it anyway.
Watch this compilation:
Many Flagrant 1s – in this video and other Flagrants more generally – are called not because of unnecessary contact, but because the player makes contact to the head or crowds a shooter's landing space. Lance Stephenson and DeAndre Ayton are making NBA plays – Lance's especially does not look like one to me, but he does have a bit of reputation. They're penalized for endangering a player DESPITE it being a "necessary" play.
Same, same for Caleb Martin. He makes a "basketball play", but it disproportionately endangers Scottie. At that speed, he could have easily caused Scottie to land horribly.
That, to me, falls within the "spirit" of a Flagrant 1: to protect players in vulnerable positions from basketball plays that could disproportionately cause harm or potential harm.
In other words, in Scottie's case, the dunk was happening, Martin didn't have a chance of stopping it, as soon as he makes that attempt where the potential for injury is severe and imminent, it's a Flagrant. That, to me, is how the NBA administers the rule.
No need to argue my ad-hoc factum, I just thought I'd break that down a bit seeing as many fans were outraged.
All to say, Scottie nearly dies and still goes out of his way after the game to compliment Martin and absolve him of any wrongdoing:
And reaches out to the woman he totally smashed too:
Here's her angle:
Then, after the near-death experience, sweet, lovely Scottie still takes the time to lead a sing-song celebrating Gary's birthday:
Guy's a mensch.
     3. ChamPointgnie of Attack
Rap fans are IN LOVE with JC. We love you too, Dalano, despite your bench burial, we still love you.
Right now, though, it's JC's turn. Hell, he's the only other guy on the bench NN trusts:
Since the "knock", he played 12, 31, 9 (all 9 were in the first half until JC dislocated his finger and didn't return), and 16 minutes. That's a lot considering these days it's the Starters, Boucher, and him. That's it.
Really, the only reason why JC's playing is his rebounding and defence. I've already highlighted JC's offensive rebounding prowess (#2).
His defence has improved each game. An important development considering his ability to shoot or create for himself is minimal – I know, I know, like you haven't heard this one before about Toronto's forwards – and would otherwise sink him.  Toronto's bench is so shrimpy, Nurse is willing to accept his offensive shortcomings.
Champagnie has served as the replacement in Nurse's send-a-message-and-bench situations. NN's yanked Boucher, Precious, and Yuta in the past (the rest of the impotent bunch are glued to the bench) and turned to Champagnie.
That's not just in the middle of the game when things are less consequential. Justin has played 230 total minutes this year; 104 of those are in the 4th quarter. He closed out nail-biters against Oklahoma City (he nearly won it twice on offensive rebounds) and New York.
Vitally, of late, JC's guarding and giving trouble to All-Star-level ballhandlers on the point of attack. Not a lot, but some. We all saw what he did to CP3 late in the Suns game:
A week later he did something similar to Cade:
JC's another bonus for this unique Raptor roster compilation. If another tall, mobile, and long [eventual] shooter can steal minutes guarding a point guard, then more and more of what Toronto wants to do becomes available.
It means Freddy can sit. It means Pascal or Scottie can run point without having to defend the 1 on the other end. And it means Nurse can try to tire out an opposing team's best player without sacrificing the endurance of his own.
JC also provides the Raptors with another switchable in the pick and roll. It's why, with the game on the line against Oklahoma City, JC was there defending Mike Muscala:
Ultimately, JC messes up by sagging off Moose, but the Raps know that Moose is only a threat either as a spot-up shooter or a screener. Ideally, JC just has to guard the shot [he didn't], but should SGA use the Moose screen, JC will manage better than others.
JC may not be able to guard otherworldly ballhandlers for long spurts – few can – but a couple of minutes here and there is all one can ask for from a 20-year old, second-round, forward rookie.
     4. Playing Up/Down to the Opponent
Toronto may be 2-4 in its last 6 games. Highlighted, most abhorrently, by an inexcusable loss to Detroit.
Still, despite a losing record, Toronto has held its last 6 opponents to an average of 100.8 points per game. That's equivalent to the best defence in the league (league-leading Golden State allows 101.6 points a game).
Small sample size, I admit, but look:
You can look at this 1 of 2 ways, depending on your penchant for cynicism or optimism. In times like these, do yourself a favour and make it the latter.
Toronto's two best defensive showings were against two of the top six(?) teams in the league. That's encouraging if we think – I do – Toronto has room to grow offensively. Outscoring opponents can be monopoly money. Defence is fiat.
You cynics out there will counter that two very cruddy teams scored at or above their season average. Fair point. Maybe it's a good thing that this team adapts to its competition: play elite against the elite, play like crud against the crud. There are worse disorders to suffer.
It could all be due to the fact that these guys HAVE to play 1000% intensity level to squeeze out wins and figured, against New Orleans or Detroit, I can make this an easier 35-minute outing than I otherwise would against better teams.
That's a consequence of this team's youth and short rotation. Hopefully, over time, both will resolve. You can also see that, unlike some other teams with winning records, Toronto's average point differentials in wins and losses is quite promising – despite being 22nd in scoring and having the worst bench in the history of civilization: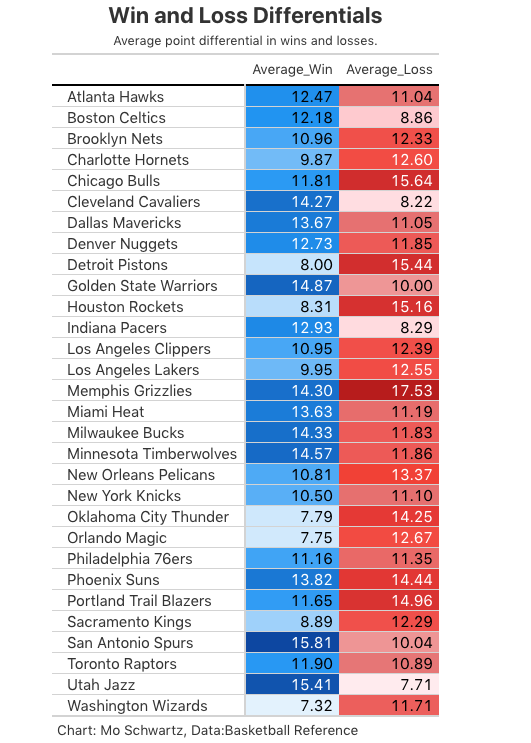 5. Gary Threads Update
Boy, do we miss Gary Trent Jr. right now.
That extra perimeter body would have been the perfect answer to Tyler Herro running rampant the other night and probably would've got Toronto past the 90-point mark against Detroit and probably would've been the guy other than OG or FVV (they scored all 8 of Toronto's 37 3-point attempts) to hit a trey bomb against Phoenix.
He's literally the best pickpocketer and passing-lane thief in the league:
Toronto needs him desperately.
That said, a very thin, thinny, thin, thin silver lining of Gary Trent Jr.'s absence is getting a good long look at his wardrobe.
I doubt you were unaware; Gary's a bit obsessed with fashion. I'm a bit obsessed with Gary's obsession with fashion. Mostly because 90% of my clothes are hand-me-downs or from a thrift store. All of this is alien to me.
You know it's legit when Holt Renfrew brings you in-house.
(Hop to minute 3 if you want to know what he chooses for date night. That's really all that matters to me. I did not anticipate the college winter nerd look. Such grace and modesty).
On the floor, Gary's got a lot of flow in his threads. Loose, strong, shapeless looks are in.
A reversible Gucci cardigan timed for separate halves of a game is ultimate fashion swagger. I really wish it was a rally cardigan to flip when the boys need to go on a run.
For those of you wishing to get your own:
LOL. Had to share this. @Greatdane is a wonderful artist and recently profiled in The Star by Alex Wong.
And yes, while his look is enjoyable to analyze, they're ripe for the jokes. This, surprisingly, is not the first Star Wars reference joke (this was about this):
I like this one because it's very similar to the two-piece rain suit I got from Canadian Tire 10 years ago and still wear.
Speaking of Alex Wong, he apparently is also into Gary's fashion.
Last night, was a bit more…tame(?). The gloves were a nice and new touch:
I thought 70s henchman, but @abovethebreak3 wins with:
Hopefully, we see Gary back on the court soon, but if not, I'm looking forward to whatever we get next.