A lot's happened since the last ten I did. Missing the cut, due to time-passed, was OG and Aron Baynes' on-court wrestling moves, the disappearance and then the resurgence (short-lived), and then the disappearance, again, of Baynes, and, the momentary path towards tanking (misery, kind of, averted).
Let's fly with what we got.
1. Jack younger than Leo (!?)
What?
Read this on Twitter a while back.
Jack Armstrong being younger than Leo still fucks my brain up

— ZEN MASTER STiXX EDiTZ (@MR_STiXX) April 5, 2021
I know Alex Wong of Yahoo Sports Canada has been on this nugget of truth for a while too. Couldn't believe it to be honest. Had to check the C-rated celebrity age database:


There you have it. Leo Rytis Rautins is three years the elder of John "Jack" Armstrong.
🤯
Jack's sage. He's grizzly. He's sarcastic. He's, to me, of another age altogether.
One before digitalization and globalization and house music, when America's loud, patriotic, industrial, invincible 'tude was somehow more acceptable. All was simpler back then: beer, cigarettes, Sinatra, no seatbelts, blood-red steaks, and some good ol' American sport.
His anachronisms, Yogi Berra quotes, dated anecdotes, and disconnect from nearly everything modern makes Jack seem so old. He pontificates and reminisces as though his best days were long, long ago. Matt Devlin, who's only eleven years younger, seems like he could be Jack's grandson at times, reeling Jack back in from his meandering stories and ruminations during the broadcast. It's all sweet and innocent, but also entirely dissonant to a major part of the fan base (more on that in a second).
Then there's Leo. His preservation gel guarantees 100% "you'll still look like you're from the 80's" effectiveness. He's a Golden Old Boy – literally. The tan, the fitness, the hair. I dunno, I thought, he was like 45 or something. No, I know, I'm playing…48. He looks the indescribable age bracket of 45 to 70. Near-perfectly preserved.
Little in what he says, other than his short-lived NBA career, suggests he's all that old. Maybe it's intentional how he vaguely recognizes the past. He certainly glorifies it as much as he can, but I'm never all that sure of when he's exactly talking about.
He does have some old-man-basketball tendencies. Lamenting "basketball these days" and wishing for a return to the Good Old Times of brute force basketball. Where players chewed the bones of their competitors and traveled by bus or in coach with nary a peep! But guys like Shaq do that on the regular and he's a decade younger, so…
There's no question he's Boomer. Just couldn't narrow down what decade.
This really boils down to Jack seeming like he's Patrick Stewart with hair more than it is Leo looking like he's Dolph Lundgren.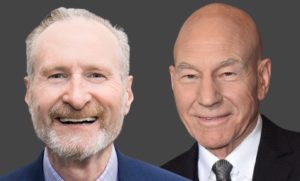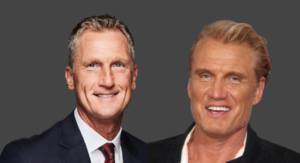 Regardless, both are less and less relatable to the fan base. Really, a swath of the NBA's local announcers seem like they were born in the '40s. Nothing made the Raptors announcers look more ancient than when the all-women crew completely dominated the broadcast.
Kia Nurse and Kayla Grey were hip, sharp, and analytical. I felt like I was watching thoughtful friends discuss the nuances of a complex sport not rambling great uncles trying to relate everything back to once upon a time.
(I still love you, Jack).
Let's get Nurse and Grey in full time. A.S.A.P.
2. Deandre' Bembry's signature finisher
I really didn't think Bembry was all that much of a dunker. But, dude gets up.
Coming out of college, Bembry's max vertical was 38 inches. For reference, Norman Powell's was 40.5. Pascal's 36.5.
He hops.
You don't expect it. He's an unassuming figure. He's not tall; he's not short either. He's not scrawny nor brawny. He's just kind of average. In fact, at 6'5″ and 210 lbs he is almost exactly the average size of an NBA small forward and nearly the average size of all NBA players.
It's why when he suddenly dunks. I'm like…
…every time.
Adding to the overall joy of watching Bembry dunk is, from what I can surmise, his ode to a certain Marvel superhero. It's something more NBA players need to adopt. Not a signature dunk, but a signature ending to a dunk. Peeps these couple of crams. Tell me if you see what I see.
Total Spidey-hang, right? He curls up like a repelling spider, the one hand guiding his twirling momentum as he pauses for that swinging moment to gloat the finish. I love it!
It's also fun watching Bembry get to his dunks. He's the Raptors' best cutter by far and, arguably, tops in the NBA. He's always watching to make his move, timing exactly the right second to backdoor for an Alley-Oop or tromp down the lane for a dish and a crush.
3. Besides-the-point
Confining players to specific roles can have diametrically opposing effects.
It can accentuate an individual skillset and put players in the best position to succeed. Conversely, stamping a player with a "You are Good at That, You Only Do That" label can be detrimental to an individual and team's growth. The latter is somewhat anachronistic. You see it time-to-time. But nowadays, if you can't do a little bit of everything, well, you're not going to play much.
With Nick Nurse, there's no role definition really at all. You've gotta be able to do a bit of everything. The more you do, the more you play. The less you do, well, we have a problem.
Watching Khem Birch and Stanley Johnson take-off in transition is no better an example.
Traditionally, the orthodoxy goes: when a big or wing rebounds the ball you "give it to a guard".
Not with Nurse though (unless you're Aron Baynes).
Neither Khem nor Stanley have the handles to lead an attack. And yet, they've both the green light.
For Stanley, it's key to future existence in the NBA. He's becoming a legitimate lockdown defender. We've seen him both faceguard primary scorers (including LeBron and Kawhi with OG out) and battle with bigs down low. Nurse even has him play the core of their 2-3 zone relying on his speed, quickness, and strength to flummox opposing bigs.
Trouble is, on offence, he's a dud. He hits the odd three-ball (he's 2/13 in his last five games) and slashes once-in-a-blue-moon to provoke momentary optimism. Then more dud.
I, admittedly, was on the Raptors Weekly Podcast hosted by Samson Folk advocating for more Stanimal time several months ago – I've also written on his defence before. I might have a thing for Stanimals.
When he does have his moments, it's usually downhill. Stanley's best with momentum. He's fearsome at top speed; guys who step up are left in the dust or who reach in (as you'll see happen to Talen Horton-Tucker) whiplashed. Similar to Justice Winslow, he's had trouble fitting into the league, because that momentum ceases in half-court play; with no shot and no handles, they're too great a liability.
Stanley's destiny (he's only 25 in May), is either defensive specialist, as he is currently, and/or as a secondary/tertiary playmaker on the bench.
He has vision and is a thoughtful, patient passer. The ball doesn't stick with Stanley; he swings the ball without hesitation, and pocket and shovel passes proficiently. When he doesn't go faster than his brain, he's a dastardly threat in transition.
He's just not like that all the time. He's often steamrolling into a set defence doing something foolhardy. He needs to pick his spots better and develop some kind of a floater/jumper/hookshot/ANYTHING to keep defenders guessing.
As an aside, he and Yuta are a pair! They hound dudes and fly down the court with Stanley leading the transition and dropping it off for a Yuta-jam or a Yuta-three. They get hilariously amped together and have made for a fan-fav duo.
Khem's contributions are a thousandfold – as outlined by myself and by Louis Zatzman of Raptors Republic. Nick Nurse has liberated him from the aforementioned labels Steve Clifford placed upon him in Orlando. He's screening more, cutting more, shooting more, and touching the ball more (25 per game in Orlando versus 46 in Toronto).
We're also seeing Birch in transition a lot for a big – in Orlando it happened only 6% of his possessions, since being in Toronto: 13% (91st percentile for bigs) – which is one of the ways he makes up for his lesser 6'9″ frame.
He runs the court superbly well with or without the ball like a gazelle-minotaur. It's with the ball that you love to see and hope to see more of. There's no waiting around. He gone.
The first is normally a "give it to the guard" moment. You can see Flynn waiting to get the ball the entirety of the play almost even afterwards too. It's good, Khem's got it.
Then, you see in the two Laker possessions, although it led to little, how it forced Andre Drummond, after his misses (no surprise there, #FREEMARCGASOL), to sprint back to catch up to the jailbreaking Khem.
It's a good way to keep threatening bigs out of plays, or, at the very least, exhaust and frustrate them over time.
4. OG-Masai pound
I know this happened some time ago, but how could I let this go!?
On April 6th, against the Los Angeles Lakers, OG Anunoby inexplicably suplexed Dennis Schröder and got ejected.
Normally, you'd think, when your best defender gets thrown out of a Playoff-implicating game, the Team President would be pissed.
Not Masai. He's here for the German toss.
Coulda used that move against a certain Sheriff in a certain state of golden hue.
Just sayin'…
5. Fourth quarter flatulence
I don't know if you remember, but not so long ago the Toronto Raptors used to blow leads like an alcohol breathalyzer.
It was back in the day, when DeMar DeRozan and Kyle Lowry succumbed to the pressure and to bigger, longer defenders. It was a nauseating time to be a Raptors fan. Their Playoff woes a culminating microcosm of Toronto's inability to show up in the biggest of moments.
Then for a three-year span, from 2017-2020, the end of games were…comfortable. The Raptors were 8th, 5th, and 3rd, respectively, in clutch win percentage. Part of that was the maturation of DeMar and Kyle; part of that was the consistency of the bench; and, part of that was Kawhi Leonard.
Cue nausea.
Toronto is twenty-eighth in clutch win percentage having lost 25 barnburners (though, they were only three Siakam toilet bowl spinners away from 22 losses). They've scored a league-worst 6.2 points per game in clutch moments, a tenth of a point worse than the Los Angeles Clippers who outscored them by nine clutch points Tuesday night.
We've seen it especially of late. In their last five losses, the Raptors have pooped away the fourth quarter by an average of 9.8 points per game. And, yup, you got it, the Raps have lost each of those five games by…ya, that's right…an average of 9.8 points.
Maybe the numbers are a bit coincidental, but if you watched the final minutes of the Knicks, Nets, and Nuggets games you saw complete annihilation. Against the Clippers last night, the difference boiled down to a few final buckets dropping for the Clips that didn't for the Raps.
Of course, there's been a myriad of compromising factors.
The stanky bench being one. The Raps are a fine fifteenth in fourth quarter scoring this season. Their bench a not so fine twenty-fourth. It's a letdown that spoils hard-earned leads and evenly-battled contests.
It also compounds itself by forcing the returning starters to burn up all their gusto getting back into the game. Even harder when, in the second half of the season, the Raps have been nowhere near full strength.
The FVV, Kyle, Powell, Siakam, Boucher group has played only twelve games together in the fourth quarter (25 total minutes); put OG in for Powell and that drops to only nine games (36 total minutes). The superduper lineup with Birch at centre has only seen three games in the fourth quarter (16 total minutes).
They've had their moments. Each of Boucher, Flynn, Siakam, FVV, and Lowry have put together some bedazzling end-of-game performances. As has Gary Trent Jr.:
Nonetheless, there's been no consistency down the stretch. Something, should they miss the playoffs, the Raptors will lament.
6. Fourth Q Flynn
Speaking of fourth quarter performances. Mr. April Rookie, Malachi Flynn, is already establishing himself as a stonecold closer. Peeps Flynn's numbers from his last fifteen games:

He passes eye testing swimmingly too. There's zero hesitation in his ball dominance and shot selection. Flynn wants those moments.
That's a rare trait. Few want them. Even fewer execute in them. And an even microscopically fewer are capable of doing it in their first year of the NBA. Most learn it the old-fashioned – and often painful – way.
7. The Jalen Harris sniperience
Small sample size. Recency bias. It's all there.
But I am diggggging the Jalen Harris three-point experience.
Jalen's played the last four games for an average of 7.5 minutes. And shot 5/6 from three. No human NBA player is going to continue shooting at an 83% clip from three.
It's just hard to know what path of regression he'll travel. In college, he led the Nevada Wolfpack in scoring last season, doing it out of pick and roll actions (44% of his scoring) and spot-up shooting and attacks (37% of his scoring) according to Synergy Sports. He shot 36% from three on 118 attempts.
We've seen some of that diversity so far. He shyly probes defences, sometimes finding space, making the right pass or traversing the lane, other times, getting completely gargled by defenders at the rim.
All the same, his confidence is encouraging. He's played meaningful minutes the last three games and made the best of them from behind the arc.
You can feel the confidence in these pulls. He also moves very well, shading drivers and fading to visible spaces for the open shot. Seeing a couple fall, in turn, feeds into better defence and more offensive bravery. Like this big take.
In most respects, this year's been horrid for rookie development. Shortened college season. No summer league. No training camp. No real G-League (Harris was injured for part of the G-Bubble). What we see with Harris, is only the origin point of development. And it's promising.
8. Siakam weakside help
Siakam is nearly an All-NBA defender. He can spend time on all five positions and excel. He's long, quick, intuitive, and sneakily strong. But off-the-ball, he can sometimes be indecisive and lackadaisical.
Not always, but at least a couple times a game Pascal's doing some head swivelling, forgetting about the guy he's responsible for in the corner, or fence-riding where he's neither helping on the attack nor keeping his defender at bay.
And it niggles at me every time I see it, enough that I have to complain about it.
Siakam has given up at least three weakside cuts or screens

— The Gentle Watch (@TheGentleWatch) March 25, 2021
You can see what happens when he zones out.
He's late to the kick or worse gives up a backdoor. When he's sitting on neutral lines, slashers are unnerved and spot-up shooters gleeful. It's a bit more difficult on the back-end of zone, but to be the core of a defence, you can't allow these slip-ups.
It's not easy to find the balance in helpside. Undercommit, and you hang your teammate out to dry; overcommit, and somebody is open.
Sometimes, though, Pascal does neither, hanging out in the forsaken no-man's-land. In the first Kyrie Irving drive, Pascal doesn't help, staying put with Kevin Durant. That's cool in theory, but he's not actually doing that. If Kyrie kicks that's a wide open three anyway, which is exactly what happens the following play. In the final clip, Siakam over helps (Khem's got it, man) and gives Jeff Green a threebie.
Pascal's improving. I've noticed the misplays less. It may be that his conditioning has improved and he's able to be more decisive and aggressive – instead of stealing a breath or two. Considering how he's been scoring of late, that certainly could be the case.
9. Rebounding rebound
Thank goodness, is all I can say.
Watching the Raptors rebound this season was like watching an AT-ST Walker ("Chicken Walker") shoot down Ewoks. Heart-wrenching meekness.
It was a bloodbath. I outlined in my last 10 things I dig the horrific rebounding differentials. Up to April, Toronto was the worst rebounding team in the league.
Then, like Chewbacca commandeering the aforementioned Chicken Walker, Freddy Gillespie and Khem Birch rescued the team.
Since Freddy's signing, April 8th, Toronto moved to 24th in the league; since Khem's, 21st. It's still not objectively great, but it's a heck of a lot better than the previous decimation.
They'll never dominate the glass. They're both too short; Khem too sleight. But they both battle. In both paints. And that's what matters.
Freddy G won't always come up with it, but he bashes and bruises and bludgeons and bobbles and bonks and beats for every loose ball. Boucher is too thin to do much damage and Aron Baynes was too adamantine to cause profound mischief. It was easy-peasy for opposing foes to close out defensive stands. Now, they have to work a bit harder, which also buys time for remaining Raps to get back in transition.
Khem grabs more misses. Since signing with the Raps, he's 11th in the league in offensive rebounds. Not bad for 6'9″. Only Isaiah Stewart, who's burlier than Gimly and Zion Williamson, who's more gargantuan than those enslaved Gate Trolls, are shorter. Khem's Aragorn by comparison.
10. Never-ending love
Forget my analyses. Forget the potential FOMO of the playoffs. Forget who we should and shouldn't trade or draft. Let's all just absorb the familial love that the NBA shares.
My favourite, favourite, favourite thing to see among two NBA players is the props they give one another, the pull-me-up from the grounds, the pat on the bums, the advice Vets give to Rooks:
2) I loved this sequence during RJs matchup with Butler on 2/9 – RJ makes a great cut, but doesn't initiate contact and Butler gets the clean strip. You can see Butler afterward telling RJ to get into his body. RJ clearly soaking in the advice. He's on his way (10 FTs last game) pic.twitter.com/lUm4Idjdiz

— Rit Holtzman (@benjy43) March 18, 2021
enjoyed this sequence…

1) Rui Hachimura turns the ball over in the post
2) Westbrook pulls him aside in huddle and coaches him up
3) His first play out of the timeout, Rui applies the teachings to similar situation and gets free throws pic.twitter.com/3aq1SgDydq

— Rob Perez (@WorldWideWob) March 18, 2021
I especially love post-game camaraderie. The Raptors have the kind of intimacy among [former] teammates that transcend jerseys. Look at the joy and love between these five. I want in!